My Triangle 2019.11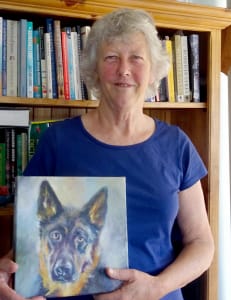 The shores of Wallaga Lake, and the dominance of Gulaga, drew artist Wendy Holmes to make Bermagui her home fairly recently. Wendy said she just came under the spell of our beautiful coastal area and, within a few months of arriving, decided to stay.
Wendy grew up in Victoria, but a sense of adventure took her to Western Australia where she commenced training in the sciences, majoring in Zoology. However, in 1982 her attentions were diverted into more artistic pursuits, starting with some drawing classes, which led to enrolment in a diploma course.
After graduation, Wendy was offered teaching positions with TAFE, where she soon became entrenched in rural life as both a college art lecturer and exhibiting artist.
Her career took a bit of a turn when she took up a position as production manager with a small herbal products business, Tinderbox, in south west WA. Her artwork still adorns the labels of products and the walls of the business.
A sudden change in circumstances led to a return to her home state of Victoria, which later evolved into several years touring in a small caravan.
By 2018, Wendy decided that she would need to 'settle down' soon, and found herself in Bermagui on the beautiful Sapphire Coast. I asked Wendy why she decided this would be her home. She said that she suddenly felt a real spiritual connection to this area—to the lake and to the mountain, Gulaga. Like many who settle here, she said that 'it just felt right!'
Now that her nomadic lifestyle has almost come to an end, Wendy has become active within the artistic community of Bermagui, currently volunteering in the position of Treasurer with the Sculpture Bermagui committee. She hopes that, through this involvement, she will meet with other like-minded artists and be able to continue painting and exhibiting on the Sapphire Coast.
With 35 years of painting experience and a deep love for animals, Wendy is now offering personalised portraits of pets—be they dog, cat, horse or a more exotic creature. Wendy will capture your pet's personality and qualities in a painting that will be a memorial of your pet for years to come.
Check out Wendy's website, www.wendyholmes.com.au, or give her a call on 0439 990 546.
https://thetriangle.org.au/wp-content/uploads/2020/12/my-triangle-2019.11.jpg
1200
925
Debbie Worgan
https://thetriangle.org.au/wp-content/uploads/2021/01/masthead-orange.svg
Debbie Worgan
2020-12-30 15:00:18
2020-12-30 16:13:09
Wendy Holmes – artist