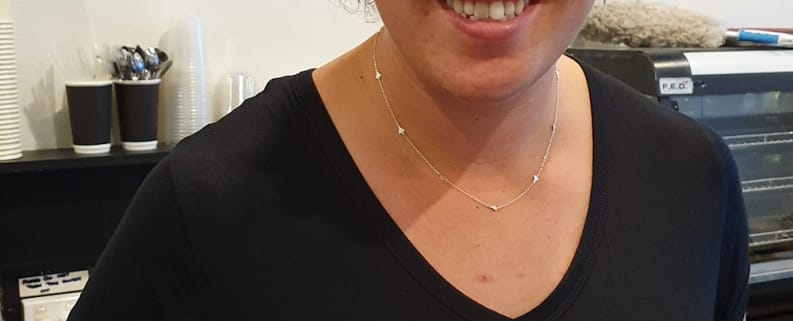 The return of Maddison Barry     
My Triangle 2019.10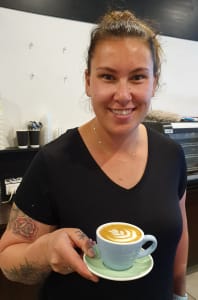 There's much discussion about the problems facing rural communities as young people move away in search of work or different lifestyles. Much less is written about those who choose to return. Maddison Barry is one of the latter.
Maddy was born to Jo and Anthony O'Connor in Bermagui in 1992, followed two years later by her brother, Sam. Both went to local Bermagui childcare centres and to the Bermagui Primary School, where they benefitted from great teachers like Jillian Taylor.
In Grade 6, Maddy was elected Prime Minister of the school parliament, and at the end of the year won a special award for leadership and community service.
Sport was always a big part of O'Connor family life. Soccer in Cobargo came early, but was soon overtaken by AFL for both Sam and Maddy while at primary school. Both were members of AusKick when it first started in Bermagui.
Maddy was the first girl to play mixed footy—until at the age of 14 she was forced to retire, but she was to return!
Maddy moved on to Narooma High School and was frequently seen working in the family fruit shop in Bermagui, a preview of things to come. Her last two years of secondary education were at Bega High, and it was here she was awarded an overseas student exchange, sponsored by local Lions clubs. So it was off to America for six weeks, a long way from sunny Bermagui.
By the time she finished Year 12, Maddy had already met her future husband, Aidan Barry, another Narooma High student. They both headed to Melbourne for work and further study. She enrolled at the William Angliss Institute, studying for a Bachelor of Tourism and Hospitality Management. This required one year's work placement, which she decided was best done in Cairns. So they packed their belongings and headed north, where her first job was with Hartley's Crocodile Adventures, followed by further experience in café management.
By the time she and Aidan made the decision to come back to Bermagui, they had their first baby, Willow, and Maddy had clocked up years of experience in the hospitality industry in Melbourne, Cairns, Cobargo, Narooma, Tilba and Bermagui. She credits her family for giving her a strong work ethic and an appreciation of the challenges facing business in small communities. Settled back in Bermagui, Maddy was determined to pursue her interest in hospitality and her dream of managing a local business. Both Maddy and Aiden quickly found work in the hospitality and food industry in town, and by 2018 a second baby, Eli, completed the young family.
Footy returned to Maddy's life, and even when pregnant she was active in the Bermi Breakers Club as a volunteer, responsible for marketing and fund-raising. This year she returned to the field, and finished the season as the leading goal kicker for Bermi and for the region, awarded for her work as a volunteer and for her coaching of the AusKick juniors. She regards her involvement with the footy club as a major way in which she re-integrated back into the community after being absent for five and half years.   
Just recently, with the support of other young people in business in the region, Maddy, Aidan and Maddy's mum Jo O'Connor formed a partnership and took over the management of Crème Patisserie. Now a young wife, mother of two children under four, footy champion and volunteer extraordinaire, Maddy emerges as a professional business woman in the industry she loves, in the town she loves. She speaks passionately about the future of the town, and of the under-35-year-olds now managing a range of enterprises, confident in shaping a different economy and community for themselves and their children, and achieving a proper life/work balance.
Leaving the town, first for her stint in America, then for Melbourne and northern Queensland, have all been positive decisions and have cemented her ideas of what she wants to achieve for herself and her family. The town to which she has returned is much different to the one she left—especially, she says, the strong support that young business people are giving to each other. It has become common for businesses to co-operate with each other, referring tourists on to ensure everyone gets the most out of their visits. One of the things that has remained constant is the belief that it takes a village to raise a child; just as Maddy and Sam were watched over by friends and community members, now Willow and Eli are known to all and sundry and their safety and happiness are monitored by many local residents.
So don't let's get upset when young people leave—let's celebrate and support them when they come home.
Heather O'Connor, proud grandmother
https://thetriangle.org.au/wp-content/uploads/2020/12/my-triangle-2019.10.jpg
1200
793
Debbie Worgan
https://thetriangle.org.au/wp-content/uploads/2021/01/masthead-orange.svg
Debbie Worgan
2020-12-30 14:58:59
2020-12-30 14:58:59
The return of Maddison Barry