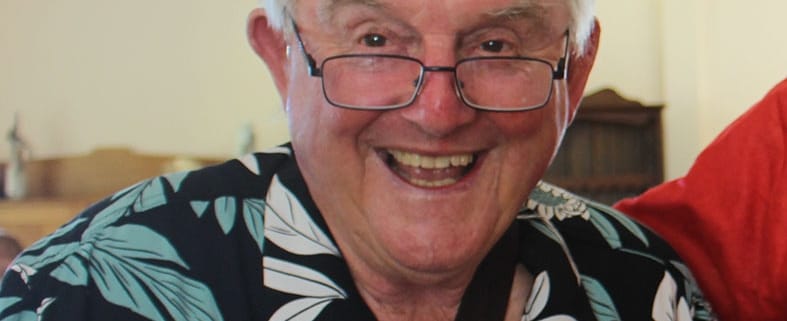 Chris Franks: 'biting off more than it was sensible to chew on.'
by Jen Severn
Chris and Bev Franks married in Sydney in 1963. Her dad had a bush property (now the Bermagui Heights Estate) and they moved down to develop it. 'The plan was for us to clear it then share-farm it,' says Chris. 'We started off without a cracker. So while we were clearing the property and sowing it down, I needed off-farm income.' He heard that the Bermagui Country Club needed a Secretary-Manager and he'd had club experience – behind the bar at the St George Leagues Club! 'On the strength of that they hired me. I was there for twelve years.'
In 1976 Chris's brother Gerald, a marine mechanic, moved down from Sydney and the two of them took over the lease of Cobargo Motors – the petrol station, mechanics workshop and NRMA Roadside Assistance. They were ultimately to relinquish that lease and build the Ampol station up the road. And they opened the BP Station in Bermagui in 1978.
All this time, Bev had been managing a property they'd bought back in 1964 – Mundui Farm on Nutleys Creek Road. 'It had a house on it and had been partially cleared,' says Chris. 'We continued to clear it and pasture-improve it. Bev raised calves. We would buy three-day-old Jersey calves, raise them, join them and sell them as springers – heifers close to calving – at about two years of age.' They also raised a couple of boys – Paul, born in 1965, and David in 1967.
But towards the end of the 1960s they decided to get out of cattle. 'They were knocking the place around a bit. And drought hit!' Their daughter Ruthie, born in 1972, was allergic to cow's milk so they got two milking goats … and found that goats suited Mundui. So they went into mohair production. 
The ups and downs of farming. 'Soon the international market for mohair nose-dived,' says Chris. 'We had to think of value-adding. Bev liked felting but we soon found that of all the natural fibres, mohair is the one that doesn't felt – the fibre doesn't have the little barbs that make it hang together.' What does felt easily is merino wool, so they blended their mohair with that.
By 1997, Chris's brother had left the petrol station business so Chris and Bev were running them both, between the two of them. It was too much. 'I think we went through much of our lives biting off more than it was sensible to chew on,' says Chris. They sold them and concentrated their energy on the farm. 'We were quite good at the mohair by then. And in 1998 we added meat rabbits to the mix.'
One of the founders of Sapphire Coast Producers Association, Chris formed the Meat Rabbit Special Interest Group, that set up a small species abattoir in Bega in 2003.
One day back in 1996, Chris was having a picnic lunch with Bev on a jetty on the easternmost reaches of Wallaga Lake. They noticed a puddling machine there for washing gold-mining sediment. 'But the goldfield was totally overgrown – you couldn't see a thing. We did a bit of investigating,' says Chris. 'Then, out of the blue, comes Judi Hearn, the historian. It turns out she wanted to write a book about the old goldfield. She said, 'This is just too good to pass up on.' I said, "Okay, we'll give it our best shot!"' He laughs, 'Mind you, I was working seven days a week at the BP.
'Around that time Bega Valley Council was sacked and one of the first things the new Council found – to their horror – was that they'd inherited a goldfield reserve on Crown Land. No one could develop it! They unloaded it to us immediately.' 
The land was 65 acres in total. 'We identified five acres where most of the action had taken place. In that five acres there were over 300 shafts.' And so Montreal Goldfield was resurrected. 'If Bev and I didn't start off as wannabe historians, we are now.' 
Chris had always loved singing but it was confined to the back paddock, belting out his favourites on the tractor. 'The dogs didn't complain,' he laughs. In 1997, he added his bass voice to the Montague Choristers.
And now ukulele – this is where Montreal and the music come together. The Goldfield has its own ukulele band, the Ukalips – they play and sing under the eucalypts. 'Music is essential for the health of the mind,' he says. 'We play a raft of old mining songs. We even have The Song of Montreal – Judi Hearn wrote the words and her son put it to music. A great number!'
A rich and wildly varied life. 'There were rough bits,' says Chris, 'but the fun bits were too good to miss.'
Jen Severn
https://thetriangle.org.au/wp-content/uploads/2023/01/Chris-franks.jpg
787
787
Debbie Worgan
https://thetriangle.org.au/wp-content/uploads/2021/01/masthead-orange.svg
Debbie Worgan
2023-01-27 14:05:53
2023-01-27 14:05:53
Chris Franks: 'biting off more than it was sensible to chew on.'