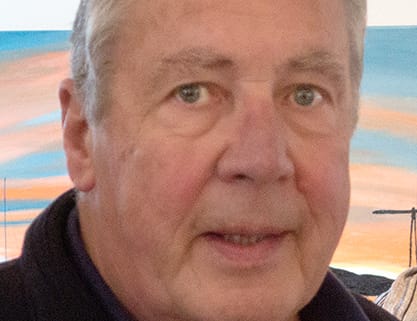 Malcolm Halliday: 'It's more about a moment.'
My Triangle 2020.07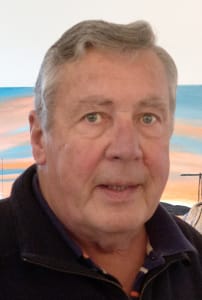 Malcolm Halliday's first career was in insurance. When he decided to call it a day, he did the rounds of his clients to say farewell. 'One of them said to me, "You never seemed like an insurance broker",' says Malcolm. 'And I took that as a compliment.'
I agree. It's hard to imagine Malcolm, in suit and tie, toting a briefcase, talking indemnities, assets and agreed values. Cooling-off period. Excess. Risk management. Grace period.
But that was his life in Melbourne for many years. Next, he ran a licensed grocery with his brother. He doesn't recommend running businesses with family members. Near the end, after another disagreement, he remembers exiting the premises, shouting, 'I'm looking forward to just being your brother again, not your business partner!'
Then he and wife Jenny bought a paint-roller business. Those were the days when Australians manufactured things. They sold that after ten successful years, moved to NSW and retired to a block between Fairhaven Point Way and Montreal Goldfield—before he and a handful of other history-minded locals realised the cultural value of the old diggings.
Why Fairhaven? 'Jenny and I used to bring the boys here for holidays,' he says. 'We'd stay at Ocean Lake Caravan Park. We loved the place. The beach, the trees. The lake.
'So when we decided to retire, and found four acres just back from Wallaga Lake, there was no question. And we'd come from the suburbs—we loved the seclusion of an acreage, the freedom.' That was twenty-seven years ago.
Since then, Malcolm's been a key member of the team rehabilitating the Montreal Goldfield, abandoned after the digging frenzy of 1880-83, into the cultural asset it is today—after all, he could walk there, through the forest, from his home. He has billeted visiting musicians for the Four Winds Festival—names such as the brilliant pianist Geoffrey Tozer have rehearsed on Malcolm and Jenny's Schimmel grand.
And all the time, in the background, was photography. It started when he was ten. Since 2015 he has been on the Shop7Artspace team, exhibiting his photographs.
When I ask about subject matter, he finds it hard to answer. 'It's more about a moment,' he says. 'I just get the one shot. I'm not one for setting up, for taking multiple shots.' Inspired by the 1949 film The Third Man, with its dramatic cinematography—angle shots, use of light—Malcolm took his favourite photo in Budapest in 2010, and another in the basement of a cathedral in Vienna.
Malcolm's 81 now and last year was diagnosed with a condition that causes weakness of the bones. It's slowed him down a bit. A lot. But that's what brought home to him another thing about Fairhaven—the community.
'When the news got out, it was amazing how many people called, or called in. And that was important to me. Very.'
In the May Triangle, Keith Bashford (also of Fairhaven) relates a story in his 'Odds & Sods' column—a neighbour had witnessed how hard it had become for Malcolm to get out of his chair, and went home to build a device. It worked. Malcolm was up and about again.
These days, 'assets' abound in his life—his family, his community, the environment in which he lives. 'Agreed value', no question. 'Cooling-off period' is when summer moves on and the lake birds and whales start to migrate north. There an 'excess' of love and care from his neighbours and the wider community. As for 'risk management', that's what failed him when his knee gave way and he collapsed on the pavement in Bega recently, resulting in three precious weeks in hospital. But he learned his lesson (which was, 'I should have listened to Jenny').
The plan now is for more photography, and more music—playing, and listening. Bach and Beethoven, but also Debussy and the other Impressionists. Malcolm's 'grace period' – that's twenty-seven years, and counting, of life lived well in a place he loves.
Jen Severn
https://thetriangle.org.au/wp-content/uploads/2020/12/my-triangle-2020.07.jpg
619
417
Debbie Worgan
https://thetriangle.org.au/wp-content/uploads/2021/01/masthead-orange.svg
Debbie Worgan
2020-12-30 15:20:29
2020-12-30 15:20:29
Malcolm Halliday: 'It's more about a moment.'