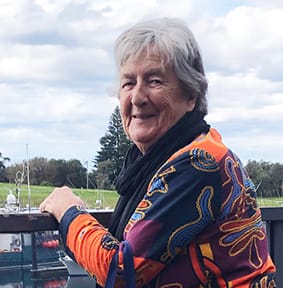 Heather O'Connor: survivor, activist, volunteer, driving force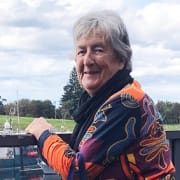 by Jen Severn
In 1988, Bob Hawke was prime minister and, arguably, the second Australian prime minister to take women's affairs seriously (Gough Whitlam being the first). Margaret Reynolds was Minister Assisting the Prime Minister on the Status of Women, and Heather O'Connor was on her staff. She advised many ministers, particularly on the education of women, and she's never lost that commitment.
Education, domestic violence, economic security – where did her interest in social justice come from? 'Definitely my mother,' she says, looking out over Bermagui Harbour from the Sundeck one breezy, early spring morning. 'My grandfather was a miner who died young of lung disease. But he was a founding member of the Labor Party in Ballarat, and that's the environment Mum grew up in. When he died, all her older siblings had to leave school and find work.
'So, after she married, my mother would sit up until two o'clock in the morning, sewing trousers for Malcolm Fraser in the Western District – amongst other jobs – to make sure we could all stay at school.' Heather went on to complete a Bachelor of Arts (Politics and History) and her Master's (Education) at Monash University – all as a mature-age student, thanks to Whitlam's educational reforms. 'And with that education went the obligation. The commitment.'
Heather had been attending the Merimbula Jazz Festival for years when she met Bermagui jazz singer Pat Thompson in the late 1980s. 'She invited me back to stay for a weekend, and I met more interesting people in one weekend – and I was living a pretty interesting life in Melbourne!' She smiles, 'But that weekend I met millionaires, I met people on the pension, and everything in between, and it just struck me – the inclusiveness of the place.'
She bought a little fibro cottage on Wallaga Lake. 'The agent advised me to knock it down and rebuild, but it was a perfectly good house for me. I moved in in 1992 and I'm still there.'
For the next twenty years Heather freelanced – two- or three-week consultancies in Sydney, Melbourne or Canberra, in education, women's issues and philanthropy. At the same time there was the unpaid work – on the board of Nardi House and The Crossing, volunteering at Umbarra Cultural Centre. She was a founding member of that triangle treasure, Well Thumbed Books in Cobargo. Rural Australians for Refugees, Grandmothers for Refugees …
'I try to calm down before I ring politicians. But the first young staffer who answers the phone and calls me "dear"…,' she rolls her eyes. 'It's not dear, it's Doctor.' And, despite her Ph.D. (2014, Women's History), she doesn't use that title often. Or her OAM (1991 for Services to Women). 'But if it makes people listen, or read something twice …'
Perhaps her biggest achievement since moving here was setting up the Mumbulla Foundation in 2000. 'That came out of the incredible generosity of Neilma Gantner,' she says. The Mumbulla Foundation funds not-for-profit organisations in the Shire; Council matches private donations dollar for dollar. So far it has awarded more than $1.6 million in grants to over 300 projects.
'There are two things I'm very grateful for. One, that I survived an incredibly poor childhood – I can go from big salaries to sweet bugger-all and it makes absolutely no difference. And two, raising two kids by myself taught me to juggle time.'
Heather's main focus now is housing for women. Single women over 55 are the fastest-growing demographic in the homelessness statistics, nationally and locally.
'That's one good thing that's come out of fires and floods and COVID – I've never seen such an interest in making affordable housing available. Just until all this mess has calmed down, Council needs to put a restriction on short-term rentals. We have to get back to that sense that we belong to a community.'
She leans back and sighs. 'There's got to be a mix in all planning applications – they must address affordable housing. What's needed is a combination of really brave leadership at every level of government, and a heck of a push from us below – just recently there's been interest, amongst some local women, to find a way of bequeathing funds to the cause of housing for women.'
She cites Bend, in Bega, an eco-friendly neighbourhood of 22 households, comprising twelve owner-occupied homes and ten affordable rental homes.
'The co-founder, Jenny Spinks, was fifty when the idea was born, and it took ten years before people started moving in. So what we need is a bunch of women aged about fifty or so, to recognise the need and take it on. I'm getting too old now. The last thing I want is to be sitting around in meetings for the next five years.'
Heather still finds outlets for her commitment to social justice. 'It's harder from an armchair, but I can still get on the phone. I can still write letters.
'I belong to a generation of women with very humble beginnings, women that lived through the war and its aftermath, and I still ended up driving around Melbourne in the prime minister's car in 1983 – in a borrowed frock.' She laughs. Hawke was there to campaign for her in a by-election she was contesting. Now she stops and leans forward. 'And I can only put it down to education. That's what breaks people out of poverty. Education.'
https://thetriangle.org.au/wp-content/uploads/2022/09/my-triangle-Heather-OConnor.jpeg
288
283
Debbie Worgan
https://thetriangle.org.au/wp-content/uploads/2021/01/masthead-orange.svg
Debbie Worgan
2022-09-28 17:14:08
2022-09-28 17:14:08
Heather O'Connor: survivor, activist, volunteer, driving force