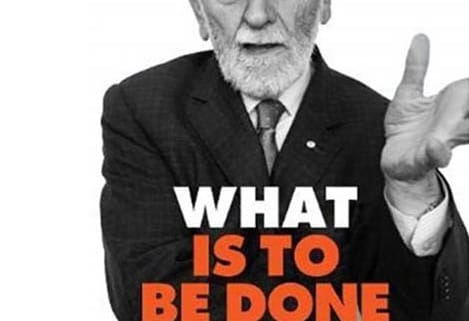 What is to be done? Political engagement and saving the planet.
Barry Jones
$35.00
I can't remember having reviewed a political book before but have made this an exception because I feel nostalgic for Barry Jones, the first Minister for Science in the Hawke government. I was also interested in how he would update his groundbreaking work of the 1980s, Sleepers Wake. That book had an enormous influence in debates here and overseas about the future of work and employment. 
This latest book tackles what Jones sees as the greatest problem facing humanity – climate change and how can it possibly be tackled by increasingly fragile democracies and institutions? Like many observers, he despairs of politicians being capable of dealing with complex, long-term issues. He also analyses the effects of widespread disengagement from mainstream politics as well as from community and voluntary organisations. He provides a clear, understandable commentary on COVID-19, on the rise of Trumpism, on the digital revolution,  the changing nature of the media and the relentless rush to consumerism. The book is a terrific summary of all these issues, especially for people like me with minimal understanding of science and technology. My only disappointment was that he offered no magic bullet solution beyond the plea for literally thousands of citizens to join the political party for which they voted. Perhaps that will inspire another book – why don't we join or organise for change? 
https://thetriangle.org.au/wp-content/uploads/2021/03/What-Is-To-Be-Done-political-engagement-and-saving-the...-Bog-Paperback-softback-1.jpg
469
469
Debbie Worgan
https://thetriangle.org.au/wp-content/uploads/2021/01/masthead-orange.svg
Debbie Worgan
2021-03-25 18:19:07
2021-03-25 18:31:30
What is to be done? Political engagement and saving the planet