Stuart Cameron, weed warrior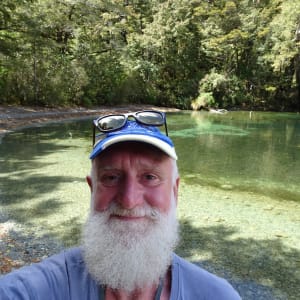 Georgina Adamson
Stuart Cameron is an imposing figure of a man, softly spoken and not seen much around town but more likely to be found on a beach or in a piece of coastal bushland doing what he loves best – learning about and caring for the flora of our coastal region. 'Gardening' the natural environment requires as much work as any garden to keep it healthy and thriving and free of weeds.
He has learnt a lot since he started his guardianship of the coastal vegetation and that knowledge has been put to very good use in the elimination of species that could displace and destroy some of the native plants indigenous to this area and the insects and birds that depend on them.
Stuart and his then partner found the piece of land they were looking for at the Head of Cuttagee Lake over forty years ago and set about building gardens, orchards and a dwelling. It wasn't long before Stuart became interested in learning about the particular vegetation of this coastal region, met up with like-minded locals and began to identify and record the plants that grow here. Although not a professionally trained botanist, since childhood he had had an interest in botany and this flourished when he moved here and he quickly became highly regarded for his knowledge of the local coastal flora.
His experience and devotion to the local flora was put to good use and he began to work with various government bodies and local landowners to prepare vegetation reports and management plans. One of his earlier jobs was with National Parks to help them identify the flora of Goalen Head, that had been recently granted to NP, and advise on how to manage the area. Since then he has prepared vegetation restoration plans for numerous coastal reserves and local estuaries.
Sadly much of the south-eastern Australian coastline has become infested with invasive weeds, mostly poorly-chosen garden plants, very often spread by dumping domestic garden refuse into reserves and over cliffs. Stuart naturally became involved in the elimination of weeds, and rubbish, from along the local coast.
'Many people don't understand the threat that weeds present. Their huge potential impact is apparent in the longer settled areas such as the coastlines around Sydney and Melbourne where, in places, you'll scarcely see a native plant, just a jumbled jungle of escaped garden plants from all round the world, a sort of McDonalds landscape. A dreary sight when we have beautiful local plants and plant communities unique to our region, of which we should be proud, and that can be readily used in our gardens as an alternative to weedy exotics.'
I am sure Stuart's quiet manner and deep convictions about the landscape contributed to his ability to bring together and work with various government and local bodies, and voluntary groups to develop a strategy for cleaning up and restoring the vegetation of this region.
He instigated and co-ordinated the Coastal Weeds Project that has been running since 2007. The project identified over ninety invasive species, top of the list being Bitou, African Beach Daisy, Sea Spurge and African Boxthorn. The project has significantly slowed down the infestation of weeds. A key to its success has been the involvement of teams from the three Local Aboriginal Land Councils who walk every beach in the Bega Valley Shire every six months removing weeds and litter, and covering about 1000 ha.
At some sites along the coast an abseiler has been employed to undertake weed control on cliffs too dangerous to tackle from the ground.
But Stuart is clear that without secure, ongoing funding and long-term commitment all this work will quickly be undone. Weeds are relentless. 'No one would suggest withholding funding from schools or health services for a year or two to save some money but effectively that is what happens with funding for environmental work – it is always an insufficient and uncertain trickle. Perhaps we need our own local environmental fund so the necessary work is not reliant on the whims of governments?'
For his efforts with the Coastal Weeds Project, Stuart was awarded the Annual Coastal Award for Community Involvement and his efforts in bringing together a variety of government agencies, coast care, local groups and Aboriginal communities to work towards protecting vital coastal assets.
https://thetriangle.org.au/wp-content/uploads/2021/02/My-Triangle.jpg
900
1200
Bhagya
https://thetriangle.org.au/wp-content/uploads/2021/01/masthead-orange.svg
Bhagya
2021-02-28 12:59:43
2021-02-28 12:59:43
Stuart Cameron, weed warrior