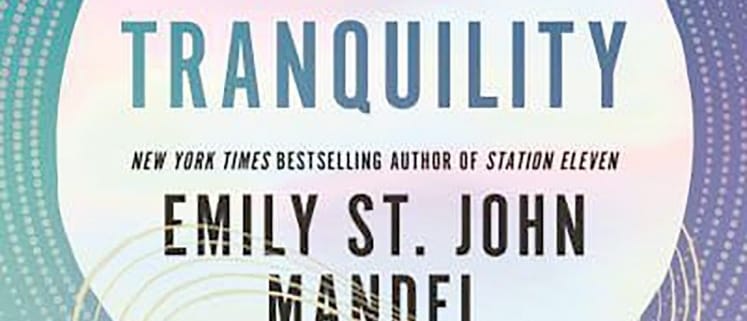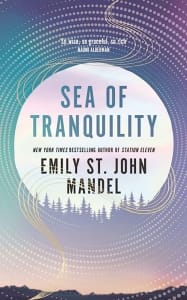 Emily St. John Mandel
Reviewed by Wendy Tucker
Emily St. John Mandel is a Canadian novelist and essayist now living in New York. She has written six novels and came to fame in 2014 with her post-pandemic, prize-winning novel Station 11, published and widely acclaimed well before the real COVID-19 pandemic hit the world. It has now been translated into thirty-three languages and made into a mini-series by HBO (available on Stan in Australia). Both the novel and series are highly recommended as ways to begin enjoying this gifted author. She followed with The Glass Hotel in 2020, my absolute favourite novel of that year and her only novel set in contemporary time and, again, optioned for a mini-series with Mandel as screenwriter.
So, I was eagerly awaiting her sixth novel, Sea of Tranquility, published this year and, again, Mandel has seduced me. I have never been a fan of speculative fiction or science fiction, and this is the genre to which this novel is assigned but, to me, it is just wonderful literary fiction.
Any summary of the plot would not do the novel justice and would need to go into too much detail that may spoil it for readers, or lead a prospective reader to think that it's just too out there and confusing. It isn't. It shifts from 1912, when our first character experiences a paranormal occurrence, to the present where that occurrence has been captured on video, to 2203 where a writer, Olive Llewellyn is on a book tour on earth (she is from a moon colony) and experiences this paranormal occurrence. We then move forward to 2401 and the Time Institute is investigating this anomaly. Is it a glitch in the timeline? A corrupted file? Or, as some suspect, are we all living in a simulation? 
Beloved characters from previous novels appear – but you don't need to have read previous books to enjoy this novel. The returning characters are part of the comfort we find here, driven by the faith in human creativity, kinship and connectedness. There is a huge and time- moving plot line in this novel but it doesn't overwhelm or confuse because the writing is graceful and intimate and the characters are so easy to know and love. 
https://thetriangle.org.au/wp-content/uploads/2022/06/book.jpg
1200
747
Debbie Worgan
https://thetriangle.org.au/wp-content/uploads/2021/01/masthead-orange.svg
Debbie Worgan
2022-06-30 13:59:25
2022-06-30 13:59:25
Sea of Tranquility