Judi Hearn: not a person who rehabilitates goldfields
by Jen Severn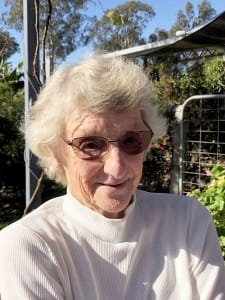 It took Judi Hearn a few years to realise she was living in Bermagui. She and Bob were still on their cattle farm near Echuca on the Murray River when they bought the house in Bunga Street in 1989. At first, they'd head to Bermi for a couple of weeks at a time to give their sons, Jamie and Donald, some rein to run the property. Then it was a few weeks, and more often. By 1993, the farm was their sons', and they were living on the coast.
Judi had always been a historian at heart. In 1986 she'd done her BA, majoring in Australian History and Literature, and written Galleries of Pink Galahs: A History of the Shire of Murray. But when she looked around for a history of her new home town, there was nothing. A few years and a few trips to the State Archives later, she published Bermagui by the Sea (1996), which led to the launching of the Bermagui Historical Society.
Next, the Bermagui Big Game Anglers Club commissioned her to write Big Game Fishing at Bermagui (2000).
In researching Bermagui's history, Judi had heard of an abandoned goldfield on the road to Wallaga Lake. It had been mined for just three years in the 1880s before being exhausted of worthwhile finds but, at its peak, two thousand miners had camped there, families in tow, tiny leases cheek-by-jowl – there'd even been a school for the children. The shafts were still there.
Australia's only seaside goldfield? Intriguing enough, even without the mysterious disappearance of the government geological surveyor, Lamont Young, and four other men from a rowboat in 1880. In 2001, Judi published Montreal Goldfield: 1880-1883 with the help of a grant from the Royal Australian Historical Society, presented by patron Hazel Hawke. 'That was a meeting I'll always remember,' says Judi.
In the meantime, she'd met local race-horse trainer Leone Creamer. Judi loved horses and had ridden extensively in her youth, and now she could ride again. A group of local horsewomen would go up to the Kosciuszko National Park for a week at a time to ride the old trails. 'Leone, as difficult as she was, would lend me a ride – I didn't need to own or feed a horse. My heart had always been in the high country. It was like a dream.'
Creamer had accomplished much in her career and Judi wanted to celebrate her racing life in a biography. In 2003, Horse-sweat and Tears: Leone Creamer, Horse Trainer, 1966-1986 was published.
By the early 2000s, Bermagui's timber industry had died and the state government was buying up commercial fishing licenses. The town needed a new industry and the answer was clear – it was tourism. But, apart from some pristine beaches and game-fishing, what did Bermagui have? What made it unique? The Chamber of Commerce was playing with the idea of a giant sundial on Dickinson Point with a souvenir shop underneath, to add to the list of Australia's 'Big' things. Gladly, the idea was quashed quickly.
Could Montreal be the answer? 'I just felt that it was a good thing for the town,' says Judi. 'The Chamber was interested. Council came out and had a look – they hadn't even known it existed! Everything just seemed to fall into place.'
Montreal Goldfield also caught the attention of local farmer, Chris Franks. 'Chris came on board, and a great crew of volunteers. Grants were available. We put up the boardwalk in 2004 and tours started.' Bermagui had its very own unique tourist attraction. 
'But it couldn't have been done without the enthusiasm and commitment of our team of volunteers. It's been a community-run project from the start.  
'What keeps me there now is the creative side of things,' says Judi. 'There was the Soundscapes project last year. Now our local film-maker Hiromi Matsuoka's making a full-length documentary for visitors unable to do the walking tour. We've got BioBlitz in September – a team of scientists and volunteers is going to spend two days documenting the flora and fauna of the Goldfield.'
By the time COVID hit, Montreal Goldfield was attracting 2500 visitors a year and had become one of Bermagui's premier attractions. Is Judi surprised at where she finds herself? 'Well, I'm certainly not a person who rehabilitates goldfields,' she laughs. 'It's presented an interesting challenge!'
In writing Bermagui by the Sea, Judi had opened the history with a poem. 'It happened quite naturally,' she says, wryly. 'I only realised later, when I tried writing more poetry, how easily that first one had come to me!' But she persevered and, in 2019, Ginninderra Press published her collection Blowing in the Wind.
Judi was awarded Bermagui Citizen of the Year in 2010, was nominated for BVSC Citizen of the Year in 2015 and received a BVSC Recognition of Community Service Medallion in 2017. 
https://thetriangle.org.au/wp-content/uploads/2022/06/My-Triangle-Judi-Hearn-copy-2.jpg
1200
900
Debbie Worgan
https://thetriangle.org.au/wp-content/uploads/2021/01/masthead-orange.svg
Debbie Worgan
2022-06-30 14:02:51
2022-06-30 14:02:51
Judi Hearn: not a person who rehabilitates goldfields