A south coast version of Ottolenghi's chicken with clementines and fennel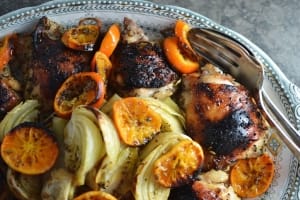 by Angela Marshall
This is an adaptation of a recipe by Yotom Ottolenghi whose recipes are a byword for fabulous flavours and very long, involved and often unobtainable ingredient lists – but at this time of year we have a bounty of citrus and fennel bulbs as well as thyme and parsley. And the rest of the ingredients are pretty common pantry items.
Ingredients: 
1/3 cup of dry vermouth (ouzo is even better if you have some in the back of a cupboard. If you use vermouth and want to boost the aniseed flavour throw in a star anise or two.)
¼ cup of olive oil
¼ cup fresh orange juice
¼ cup of fresh lemon juice
2 tablespoons of grainy Dijon mustard
3 tablespoons light brown sugar
Salt to taste (about 1-2 teaspoons)
A generous amount of freshly ground black pepper
(about a teaspoon)
1.8 – 2 kilogram free range chicken, jointed and cut into about eight pieces or the equivalent in free range chicken pieces
2 medium sized fennel bulbs
400 grams of thin-skinned mandarins (I don't think it will work as well with the thicker, baggier style of mandarins)
1 tablespoon fresh thyme leaves
2 teaspoons fennel seeds, lightly crushed
Chopped fresh parsley
Instructions:
Trim fennel bulbs and cut each one in half and then into about four wedges
Slice unpeeled mandarins horizontally into 5 cm slices. Discard the tops and bottoms, remove seeds (if any).
Combine the first eight ingredients and whisk together.
Add the next five ingredients to the marinade, stir well (your hands will be your best tool) and set aside for several hours (or overnight if you're really well organised).
Preheat your oven to 200º C, place the chicken and marinade in a large baking tray, skin side up. Roast for about 40-45 minutes and scatter with chopped parsley and serve with cous cous. 
The original suggests separating the cooked chicken and vegetables from the marinade and reducing the marinade to about a third before pouring it back over the dish but I don't bother as I serve it with cous cous that soaks up the liquid and tastes wonderful.
https://thetriangle.org.au/wp-content/uploads/2022/06/chicken-with-fennel-and-clementines.jpeg
800
1200
Debbie Worgan
https://thetriangle.org.au/wp-content/uploads/2021/01/masthead-orange.svg
Debbie Worgan
2022-06-30 13:55:29
2022-06-30 13:55:29
A south coast version of Ottolenghi's chicken with clementines and fennel