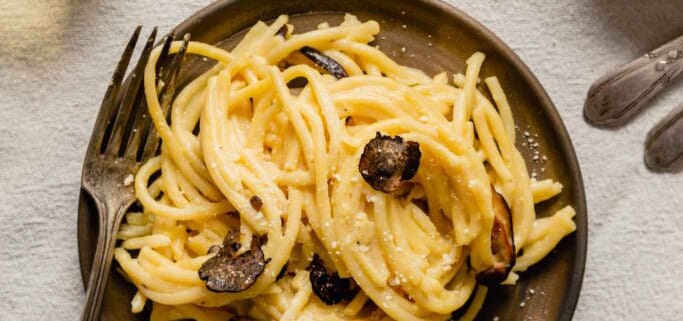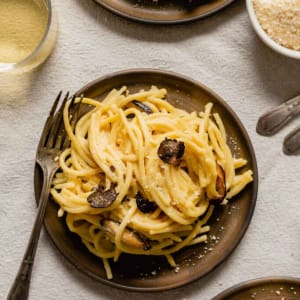 Fiona Kotvojs 
(2 people)
Ingredients:
2250 g pasta. Use only good quality pasta for this recipe.
25 g salt
Knob butter
½ clove garlic (don't add lots or it overpowers the truffle)
Small pinch chilli flakes (don't add lots or it overpowers the truffle)
Sea salt (optional)
6-10 g truffle in the recipe (can add an additional 2 – 3 g per person at table if you want)About ¼ cup cream
Parmesan, grated (use truffle-infused parmesan if you have it)
Method:
Boil five litres of water with salt, add pasta and cook until tender.
Draw off a cup of cooking water and drain pasta through a colander.
Return the pot to the heat, add butter, garlic, chilli flakes and a little sea salt.
Gently cook until fragrant. Add steaming hot pasta, reserved water and toss.
Finish with splash of cream and freshly grated Parmesan.
Serve piping hot into warm bowls.
Shave 2-3 grams fresh truffles per person at table over the warm pasta for the full truffle aroma hit.
https://thetriangle.org.au/wp-content/uploads/2021/07/truffle-pasta.jpg
1024
683
Debbie Worgan
https://thetriangle.org.au/wp-content/uploads/2021/01/masthead-orange.svg
Debbie Worgan
2021-07-30 15:22:57
2021-07-30 15:22:57
Truffle pasta