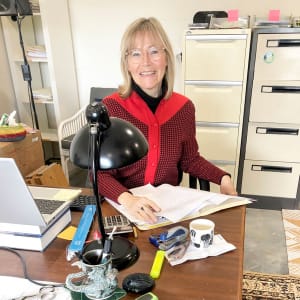 From the Gold Coast to the South Coast
Chartered accountant, Eva Mosler-Teichmann, drove an old Hyundai Getz from the Gold Coast to her new home at Bermagui back in April. The little car was packed with computers, boxes and the dog.
'The Getz went really well until we got to the traffic lights in Moruya and then she just stopped. I was thinking we'd make it no worries, then I'm asking people for a push. Thanks to the NRMA we weren't delayed too long,' Eva said.
After 22 years on the Gold Coast, Eva and her partner, journalist Ed Southorn, had decided the time was right to finally make the move they had been planning for a decade.
'We went looking back in 2013 for somewhere to settle away from the Gold Coast. We explored about a dozen locations along the NSW coast. Bermagui was the last spot on our list and it was the best,' Eva said. 'Ed had remembered Bermagui and Tilba from his surfing trips back in the 1970s. The Gold Coast has become so crowded and overbuilt, everywhere there is a target for high-rise development, it never stops.'
'A few years after we had decided to move to Bermagui, our son moved to Canberra. That was the clincher for us. To be on these beautiful beaches and not see a building anywhere is wonderful, the town is just stunning and the people are friendly. We love all the walks, the pub, Fishermen's Wharf, the shops and exploring Cobargo and Tilba has been a revelation.'
'Yes, it's getting busier along the south coast but hopefully any future development will be carefully managed. To be honest, we're not telling our friends back on the Gold Coast much about where we are.'
Eva was born in Munich and lived in China for four years teaching German. She met Ed in Shanghai where he had a posting with Brisbane's The Courier Mail. 
Eva taught German at the University of Queensland then decided on a career change, studying for a Bachelor of Business. She became a chartered accountant while working as KPMG's Gold Coast small business manager. She started her own small firm, Pandanus Accounting, in 2009.
'I wanted to work at a pace where I was able to give clients the time they need. I really enjoy that part of the job, talking with people and helping them achieve their financial aspirations.
'We're so grateful to be in Bermagui, I'm even enjoying the winter, it's so refreshing after the humidity up north.'
Eva is operating Pandanus Accounting full-time at Bermagui. Ed is assisting with the administration tasks and teaching journalism online at Canberra University and Griffith University.
Ed Southorn                      
https://thetriangle.org.au/wp-content/uploads/2021/07/From-Gold-Coast-to-Sth-Coast.jpg
945
1000
Debbie Worgan
https://thetriangle.org.au/wp-content/uploads/2021/01/masthead-orange.svg
Debbie Worgan
2021-07-30 15:51:11
2021-07-30 15:51:11
Eva Mosler-Teichmann