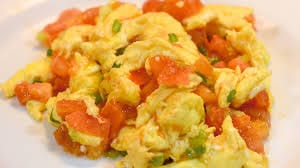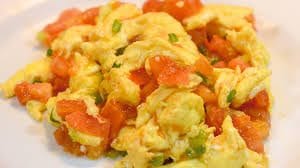 Linda Sang
At the end of March my remarkable grandmother of 111 years died peacefully in her sleep after not eating for one day. We Chinese take our food seriously! We called her Pau Pau and
when I was small our family would go to her semi-detached house in Bondi Beach for Sunday lunch. There would be a large array of dishes, all tasting different from my other grandmother's fare, who was an equally wonderful cook. After our mother died my sister and I had the great fortune of being brought up by our grandparents, particularly our grandmothers.
These recipes are simple, everyday fare that give comfort. I had to work them out by tasting and talking as one nana was illiterate and the other could only read and write Chinese. Nothing was measured. Like playing the piano without sheet music.
Tomato Eggs
1-2 tbsp peanut oil or any light cooking oil
1 onion chopped
1-2 cloves of garlic, crushed
4 ripe tomatoes chopped
Salt and freshly ground pepper
1-2 small red chillies finely chopped (optional)
6 eggs, well beaten
Heat oil in pan. Add onion and garlic, stirring till translucent. Add tomatoes (and chillies if using), fry slowly till well cooked. Season to taste. Pour eggs into the tomato mixture and cover the pan, stirring a couple of times more to break the eggs up a little, cooking until set like scrambled eggs. Serve with rice with coriander or chives on top. Serves 4.
https://thetriangle.org.au/wp-content/uploads/2015/10/Tomato-eggs.jpg
168
300
Darryl Butler
https://thetriangle.org.au/wp-content/uploads/2021/01/masthead-orange.svg
Darryl Butler
2020-12-08 22:17:22
2021-01-06 16:04:38
Tomato Eggs