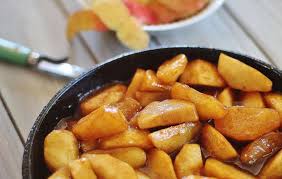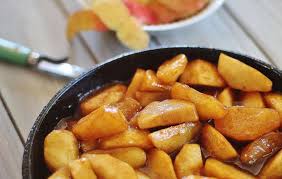 Virginia White
Now that apples are at their best it's a good time to use them for cooking as well as eating fresh.
1.5kg tart cooking apples, peeled and cored
100g unsalted butter
1 cup sugar
90ml Calvados (optional)
1 vanilla bean, split
3 large eggs
2 large egg yolks
300ml double cream
Preheat oven to 220C
Cut the apples in quarters. Heat the butter in a pan over medium high heat. When butter is hot and foamy add the apples and sauté them until golden, about 10 minutes. Add half the sugar and cook until it has caramelised, shaking the pan so that the sugar doesn't burn. If using Calvados, pour into the pan and swirl it around then flame, gently shaking it until the flames die down.
Transfer the apples to a 1.5 litre casserole.
Scrape the seeds from the vanilla bean. Whisk together the eggs and egg yolks in a medium bowl, then whisk in the vanilla seeds. Whisk in the remaining sugar and cream until combined. Pour the mixture over the apples and bake in the centre of the oven until the top is golden and puffed, about 35 minutes. Let cool for about 20 minutes before serving. Enjoy.
https://thetriangle.org.au/wp-content/uploads/2015/10/fried-apples.jpg
179
282
Darryl Butler
https://thetriangle.org.au/wp-content/uploads/2021/01/masthead-orange.svg
Darryl Butler
2020-12-08 22:19:30
2021-01-06 16:03:56
Melting Apple Custard