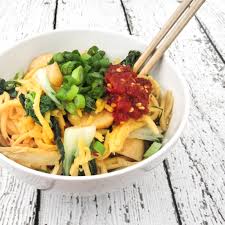 250g dried fine egg noodles
3 cm knob of fresh ginger peeled and grated
1 tbsp soy sauce
1 tbsp light oil
500g firm white fish fillets (ling is good) cut in 2 cm squares
2 eggs
Oil to fry
½ small cauliflower thinly sliced,
1 medium carrot cut into matchsticks
6 dried shitake mushrooms, soaked for an hour or so in one and a half cups of water, drained (keep liquid!), stems discarded, thinly sliced.
Reserved soaking liquid from mushrooms (about 1¼ cups)
Salt and ground pepper to taste
1 tbsp cornflour
2 tsp soy sauce
½ tsp sesame oil
¼ tsp sugar (optional)
Place noodles in boiling salted water till just cooked. Drain and rinse under cold water. Set aside. Mix ginger, soy and oil and marinate the fish in this for 15 minutes. Beat eggs and cook in a non-stick frypan till set. Remove from pan and cut into strips. Heat more oil in the pan and add the noodles. Do not stir—allow the noodles to form a 'cake'.
Cook for three minutes each side making some of the noodles crispy. Slide noodles onto serving platter. Heat a tbsp oil in the pan to sauté the vegetables and mushroom for two minutes, then add two tbsp of the reserved mushroom liquid and cook for one minute. Pour over noodles. Mix together cornflour, soy sauce, the rest of the mushroom water, sesame oil, sugar, salt and pepper and set aside. In a hot, clean pan heat a little oil and sauté the fish until tender. Add the cornflour mixture and cook till thickened. Pour over the vegetables and noodles and garnish with egg strips. Serves 4.
https://thetriangle.org.au/wp-content/uploads/2015/10/Noodle-Bowl.jpg
225
225
Darryl Butler
https://thetriangle.org.au/wp-content/uploads/2021/01/masthead-orange.svg
Darryl Butler
2020-12-08 22:15:30
2021-01-06 16:18:13
Fish Chow Mein