Braised chicken with cider, fennel & garlic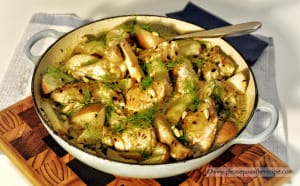 Lynne Ford
1.5 kilo free range chicken
Sea salt & black pepper
4 sprigs lemon thyme (leaves)
1 tablespoon of ghee or virgin olive oil
8 small bulbs of spring onions or use halves of a spring onion which would include some green
4 cloves of garlic
3 small fennel bulbs
375 ml apple cider
375 ml vegetable or chicken stock
Tamari
3 peeled and sliced green apples
Gluten free cornflour
Using kitchen shears, cut the chicken into eight portions. Set carcass and neck aside for stock (if you make your own stock).
Combine salt, pepper and thyme leaves and press the skin side down into this, making sure you use all the mixture.
Heat the ghee or oil in a heavy casserole (enamel cast iron is my choice) over medium heat, brown the chicken pieces for ten minutes.
Chop the spring onions, keeping the bulb and half of the green top, dice the garlic.
Slice the fennel bulb, keeping the green fronds aside.
Preheat the oven to 160C.As the chicken pieces turn golden, set aside on a plate. Add the onion and garlic to the pan and reduce the heat to caramelise them. Add the sliced apple, apple cider and stock. Don't forget to lift the juicy brown bits on the bottom of the casserole, once you have added the liquids.
Add the chicken pieces and chopped fennel fronds.
Cover and bake for 30-40 minutes. Mix the cornflour with some water or extra stock and stir through. Taste for flavour, and if it is too sweet, add some tamari. This is all a matter of taste at this point. Make certain you take the time to brown the chicken well. The browning of the chicken will determine the outcome of flavour. Great to serve with a cabbage and fennel salad.
https://thetriangle.org.au/wp-content/uploads/2020/12/braised-chicken-scaled.jpg
1589
2560
Darryl Butler
https://thetriangle.org.au/wp-content/uploads/2021/01/masthead-orange.svg
Darryl Butler
2020-12-08 22:09:56
2021-01-06 16:17:44
Braised chicken with cider, fennel & garlic