Lynne Ford
1 kg ripe plums, halved, stones removed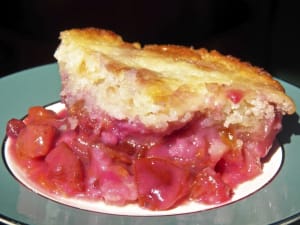 40 g brown sugar plus 1 teaspoon extra for sprinkling later
Vanilla extract
1 teaspoon cinnamon
1 teaspoon gluten free cornflour
Topping:
130 g spelt flour
1 teaspoon baking powder
3 teaspoons brown sugar
1/4 teaspoon bicarbonate of soda
1 egg
55 g unsalted butter (melted and cooled)
Vanilla extract
90 ml buttermilk
Place plums, sugar, vanilla and cinnamon in a bowl, toss to combine and stand for 30 minutes.
Preheat oven 180C. Place plums in ovenproof dish, leaving the juices in the bowl. Mix the cornflour with the plum juice and add to the plums, then bake for 20 minutes until the plums look just about cooked and have released all their juices.
Meanwhile make the cobbler topping. Place the flour, baking powder and sugar in a mixing bowl. Sift in the bicarb soda and whisk to distribute. In another bowl, mix the remaining ingredients, ensuring the egg is well beaten. Mix wet and dry ingredients together. Do not over mix.
Dollop spoonfuls (size of a walnut) onto the plums. Sprinkle with sugar and bake for 20 minutes. So nice with Tilba cream. This can be made with other fruits, especially moist and juicy fruits.
https://thetriangle.org.au/wp-content/uploads/2015/10/plum-cobbler.jpg
1500
2000
Darryl Butler
https://thetriangle.org.au/wp-content/uploads/2021/01/masthead-orange.svg
Darryl Butler
2020-12-08 22:08:19
2021-01-06 16:17:07
Plum cobbler