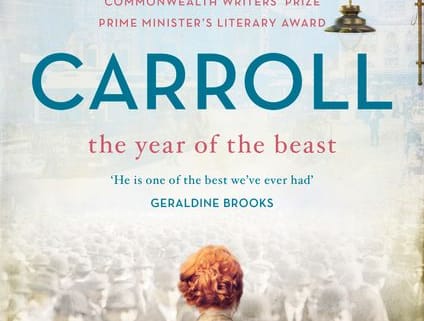 Steven Carroll
The Year of the Beast
$29.99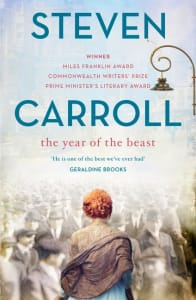 This is the sixth and final novel of Steven Carroll's Glenroy series, Glenroy being a suburb of Melbourne known to few, and which grew after the Second World War to accommodate the explosion of home ownership. The six novels can be read in any order, and this one actually goes right back to the beginning of the family saga in 1917. The main character is Maryanne, a 40 year old woman, unmarried and pregnant and caught up in the political struggles around conscription and the horrors of the Great War.
Archbishop Mannix makes a guest appearances as the main opponent of conscription, and as the representative of the Church whose judgments of 'fallen' women, such as Maryanne, marked so much of the lives of Catholics before the 1970s. Her confrontation with her parish priest who decides she must give the child up for adoption is to me the most compelling thread in the story. Her decision to defy the hierarchy makes you want to cheer!
The book is narrated by Maryanne's grandson, Michael, and throughout the book other characters from the family appear briefly: Vic the son and hero of The Art of the Train Driver, Maryanne's sister, Kathleen, an adventuress who sacrifices months of her life to support the new mother and baby, the father of the child—a German draper who disappears soon after the conception. There are also a few brief appearances of a radical pacifist, Vera, who influences Maryanne through her leadership of the Women's Peace Army.
I felt a bit frustrated that none of these characters (beside the parish priest) emerge as believable and multi-dimensional—my memory of his earlier books is that their strength was in the characters. I'll have to go back and have a second read of the other six.
https://thetriangle.org.au/wp-content/uploads/2019/03/Book-colour.jpg
648
424
Darryl Butler
https://thetriangle.org.au/wp-content/uploads/2021/01/masthead-orange.svg
Darryl Butler
2020-12-08 12:18:19
2020-12-10 12:27:11
The Year of the Beast