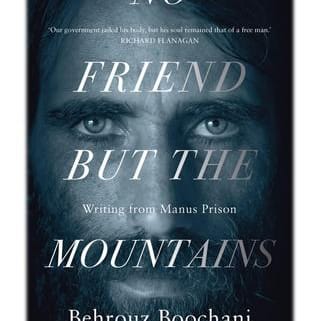 No friend but the mountains: Writings from Manus prison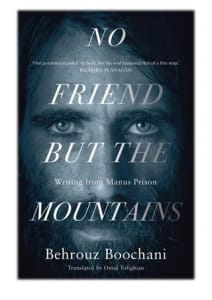 Behrouz Boochani, No friend but the mountains: Writings from Manus prison. $32.99
It is hard to know where to start with this, except to say if there was ever a book that should be compulsory reading (especially for politicians) it is this one. It has just won the Victorian prizes for Literature and for Non-fiction, and it easy to see why.
The book was produced over five years from within the Manus detention centre, relayed to his translator in Melbourne by mobile phone texting. The author is a Kurd, for whom there is 'no friend but the mountain' in the struggle for recognition and control over home land. He is a poet, a journalist and social scientist, and is still languishing on Manus after five years' detention following his 'illegal' journey by boat from Indonesia.
The description of that journey is a stand-alone must-read. I thought I had a fair knowledge about refugees and asylum seekers, including those in detention, but there is information here that truly shocked me. Of greater importance was the stark realisation that the systematic dehumanising of the men on Manus is being done in our names and without any account of human rights conventions to which we are a signatory. Four hundred men, forced to stand in line to wait their turn for food, medical treatment, access to phones, in heat that defies description. Denied the right to play cards, to have access to writing materials, witnessing self-harm on an almost daily basis.
For such a tragic and horrific story to be told with such beautiful writing and poetry makes the reading of this book even more memorable.
This is more than a descriptive exercise (which would have been of tremendous value in its own right). This is a gift to literature, to the Kurdish tradition of poetry, to the academic pursuit of truth and understanding. It is an analysis of imprisonment and the sacrifice of a group of people in the name of 'border security' and national interest. If you only read one book this year, make this the one. Talk about it to your friends and neighbors—and of greater importance, to your local MP.
https://thetriangle.org.au/wp-content/uploads/2019/03/Book.jpg
452
320
Darryl Butler
https://thetriangle.org.au/wp-content/uploads/2021/01/masthead-orange.svg
Darryl Butler
2020-12-08 12:17:17
2020-12-10 12:27:22
No friend but the mountains: Writings from Manus prison