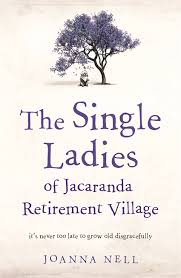 The Single Ladies of the Jacaranda Retirement Village
Joanna Nell, The Single Ladies of the Jacaranda Retirement Village, $29.99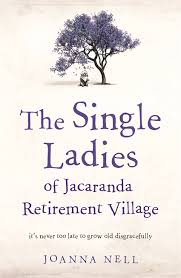 Well, here's something new for the New Year, a new literary 'genre (don't you hate that word!) It's called Uplifting Literature or Up Lit—as if Jane Austen isn't!  'Something to lift readers into a warm, fuzzy, happy place' is how it's described—an antidote to reading about disasters, violence, misery and Donald Trump. Apparently, Up Lit was the leading trend at recent international book fairs, so it's probably alright to review at least one for the year.
I got sucked into buying this because I thought there are many of us who spend a fair bit of time thinking about aged care in all its forms, and the blurb on the back promised a good dose of taking the mickey out of retirement/aged care facilities. The main character is a 79 year old widow, re-united with her childhood friend who has seen off four husbands and is determined to grow old disgracefully. All fine so far. However, our heroine falls in love with one of the only eligible, still mobile blokes in the facility, and that part of the story dominates all the other much funnier things about an ageing community.
If you want a pretty mindless read on the beach to finish off the holidays, this will do just fine. However, if you want something really thought-provoking and uplifting, I suggest two new biographies—one by Kerry O'Brien, the other by Anne Summers. Both are giants in their fields; both feel like the 'sound-tracks' of my life. Two books that are a fabulous addition to Australia's cultural history—and Uplifting as well!
https://thetriangle.org.au/wp-content/uploads/2019/01/book-colour.jpg
278
181
Darryl Butler
https://thetriangle.org.au/wp-content/uploads/2021/01/masthead-orange.svg
Darryl Butler
2020-12-08 12:15:55
2020-12-10 12:27:33
The Single Ladies of the Jacaranda Retirement Village