The High Mountains of Portugal
Yann Martel,  The High Mountains of Portugal, Text Publishing $29.99 (April 2016)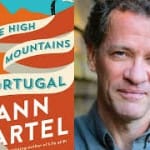 I confess that the reason why I chose this book was because of a recent trip I took to Portugal, not to mention that The Life of P, by the same author, is just about everyone's favourite. If I thought it was a bit out there, it is as nothing compared to this 'magic realism' (I think that's how you would describe it).
The book is in three distinct parts, each with a strong link to the high mountains of Portugal, beginning in 1904 and covering the next five decades. The first section, entitled Homeless recounts the story of a young man who is on a quest to find a treasure in the mountains, and to assist him, he borrows one of Portugal's first cars to help him on his way. The book is almost worth reading just for the descriptions of the car and the challenges it presents to this young non-driver.
Thirty five years later, under the heading Homeward, a pathologist is tackling a murder mystery worthy of Agatha Christie. The clues all point back to the adventures of our young hero from Homeless. Finally in Homecoming, we move to the story of a Canadian professor who moves to Portugal to recover from the grief of losing his wife, and in one of the many strange twists to the story, finds himself taking along a young chimpanzee as his chief companion. If this all sounds a bit contrived and confusing, don't be put off – the writing is beautiful and there are great descriptions of deep love and tragic loss. A worthy follow on from Pi.
https://thetriangle.org.au/wp-content/uploads/2015/10/BOOK2.jpg
180
280
Darryl Butler
https://thetriangle.org.au/wp-content/uploads/2021/01/masthead-orange.svg
Darryl Butler
2020-12-07 22:49:33
2020-12-10 12:39:41
The High Mountains of Portugal