'Thank You for the Music'—Lori and Gerry Hammerton
My Triangle 2019.02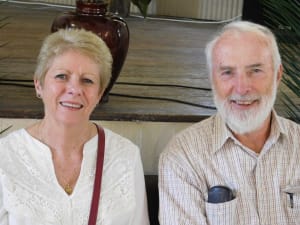 When you mention the name Hammerton in Bermagui, most people immediately think of music.
Lori and Gerry are well known around Bermagui for their community volunteering activities. They have both lived in the Bega Valley since the early 80s. Lori is a registered nurse and lived and worked in Bega for many years, not only nursing but in a host of other occupations as well. Gerry came to Bega to work in the Commonwealth Bank. They met in Bega and were married in 1990.
For some time they lived on a six-acre property at Jellat Jellat. At the time Lori was a specialist nurse for the elderly with foot care qualifications. She had many patients in the Bermagui/Cobargo/Quaama area so they decided to downsize and move to Beauty Point in 2006.
I asked Lori if she was 'officially' retired and, well, she just laughed and said that at her age she should well and truly be … but she does work in Bega one day a week looking after a number of elderly patients.
Lori's passion has always been music, and during her time in Bega was involved in a number of musical events, singing at a semi-professional level with a number of groups in the district. She told me that even as a child she was always banging out rhythms on anything she could get her hands on. Although never formally trained, she had her latest passion, the ukulele, in her hands the whole time during our interview and was constantly strumming out a song for me. I must admit that our focus on this interview went well astray at times as we reminisced over a song or two.
Just after Lori and Gerry moved to Beauty Point, Lori joined the Bermagui Seasiders—the committee that organised the annual Bermagui Seaside Fair. She and Gerry spent six years volunteering on both the committee and at the Fair, telling me of times when they joined fellow volunteers on the oval at 5 am, shifting rubbish bins around and organising things for the day, often spending over 18 hours working at the Fair. But she was very quick to point out that there were many other volunteers who worked equally hard! Many will remember Lori's commentary of the street parade. In later years, she helped with the Umbrellas of Bermagui project, and finally retired from the Seasiders in 2015.
A favourite on the Bermagui calendar is the Seniors Variety Concert, held around Christmas at the Bermagui Country Club. Over the years Lori has persuaded many professional and retired musos to perform at this concert. Acting as MC, Lori could also belt out a song or two, and frequently brought an audience to laughter with her suspect jokes—which these days, she admits, would not be very PC! As well as these concerts, Lori also takes entertainers to local nursing homes to help brighten the lives of residents.
At this point she stopped and said that she could not do all this without the help and support of husband, Gerry, whom she lovingly refers to as her 'Roadie'. It's Gerry's job to ensure that all the sound equipment is set up and working, as well as being photographer for these events.
Gerry has followed his own interests and is a long time member and Secretary of the Bermagui Country Club Men's Bowls. Gerry runs a school sports program in lawn bowls, organises the popular U3A 'Kissing Kitty—An Introduction to Lawn Bowls' course through U3A, and is part of the team that runs the holiday 'barefoot bowls' events that are well attended by visitors and holidaymakers during the Christmas period.
Tai Chi is another of Lori's passions and, as a qualified instructor, she runs five weekly Tai Chi classes at Bermagui and Cobargo. Most of these classes are aimed towards seniors and especially those who suffer from arthritis, as the gentle movements are of great benefit to them. Again this is all voluntary and all money received goes to Lori's most valued charity, Can Assist Bega.
Lori has been a member of Can Assist for some time now and regularly organises fundraising events for this valuable organisation. She gives credit to a number of local organisations, such as CRABS, Wallaga Lake/Bermagui Men's Shed, Dad's Army Golfies, local quilting groups and many other local organisations, who fundraise for Can Assist. Over the years, many thousands of dollars have been raised, with an impressive $18,000 from Tai Chi alone. At a recent concert, Lori and Gerry were awarded life membership to Can Assist—a very humbling experience for them.
Lori was a recipient of the BVSC Community Service medallion for service to the community in 2008, and now works on the committee that chooses the winner each year—a difficult task, she says, as there are so many wonderful volunteers out there.
Of course, Lori's story is not complete without a mention of her latest venture that is turning into a real obsession with some local folk. As mentioned earlier, Lori loves the ukulele and, in June 2018, started teaching a band of musically challenged individuals, and shaping them into a group she calls the 'Ukalips'. The group continues to grow as more people realise how easy the ukulele is to learn and how much fun it is being with fellow uke lovers to jam away week after week. Keep an eye out for their public performances throughout 2019!
Lori and Gerry's enthusiasm for this community knows no bounds. They love where they live and love the people of Bermagui and the wider triangle, and I am sure that, with Lori's fertile imagination, we will see many more fantastic and fun things happening with these two in the future.
Carolyne Banados
https://thetriangle.org.au/wp-content/uploads/2020/12/My-Triangle-2019.02.jpg
900
1200
Debbie Worgan
https://thetriangle.org.au/wp-content/uploads/2021/01/masthead-orange.svg
Debbie Worgan
2020-12-30 14:20:51
2020-12-30 15:24:36
'Thank You for the Music'—Lori and Gerry Hammerton