Meet Nolan Mahoney and Kirsty Furbank
My Triangle 2018.12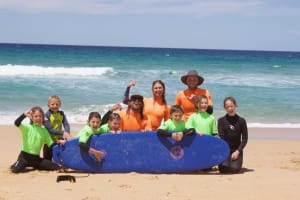 Camel Rock Surf School is open and here to stay! Living the dream … but it's a serious business—serious about introducing more people to the beauty of our oceans and hopefully a lifetime of fitness and respect for the sea. What a fantastic addition to our Triangle area to have our own surf school!
Nolan came from California originally, and has been an Aussie for the past nine years. He has studied Marine Biology and has always had a love of surfing. Kirsty was born in Wollongong and has been surfing since she was 12. Her dad lived in Cobargo for some years so Kirsty knew the area a little before deciding that this was THE place to be.
How did they become surf school instructors?
'We both love surfing,' says Nolan. 'We met each other in Byron Bay on Christmas Eve six years ago. We had the benefit of working with amazing surf instructors at Mojo Surf School in Byron as well as with Josh Palmateer in his Margaret River Surf School in Western Australia.
'Teaching people how to surf was clearly our passion—we love seeing people fall in love with surfing. We studied to gain our Level 1 certifications to be Surf Coaches. We also have Lochie McCabe, a local here who is on board with our school as a coach too. We can cater for one-on-one sessions or full-size classes as well.'
So how did they end up in Bermagui?
'Each year we would "migrate" from Byron Bay to Margaret River along the coast roads. In 2017, we had bought a new car for our annual trip and it broke down at Haywards Beach. This turned out to be the best thing that happened to us,' says Kirsty.
'We spent several weeks figuring out how to get back on the road and at the same time found out how generous people were here. Surfers can be a territorial bunch so we were just blown away with how welcoming the locals were. We are always mindful when surfing a break to respect the locals on the waves. Here, we found the locals could not be more inclusive. We both felt like Bermagui had the best surf culture we had been in for some time. This is where we want to be.'
What does surfing have to offer people?
'With such beautiful beaches here on the Far South Coast, surfing is so accessible to everyone. We want to help people experience the ocean through surfing. We take one-on-one sessions, small groups, classes and plan to be open seven days a week all year round,' says Nolan.
'There is nothing to compare with the feeling of riding a wave and being part of the ocean. The clean oceans and abundant sea life here with whales, dolphins and seals all around you takes surfing to a whole new level.
'Everyone can surf. There are no age barriers! It is never too early or too late!'
Ann Maree Menager
https://thetriangle.org.au/wp-content/uploads/2020/12/my-triangle-2018.12.jpg
800
1200
Debbie Worgan
https://thetriangle.org.au/wp-content/uploads/2021/01/masthead-orange.svg
Debbie Worgan
2020-12-30 14:18:58
2020-12-30 14:18:58
Meet Nolan Mahoney and Kirsty Furbank