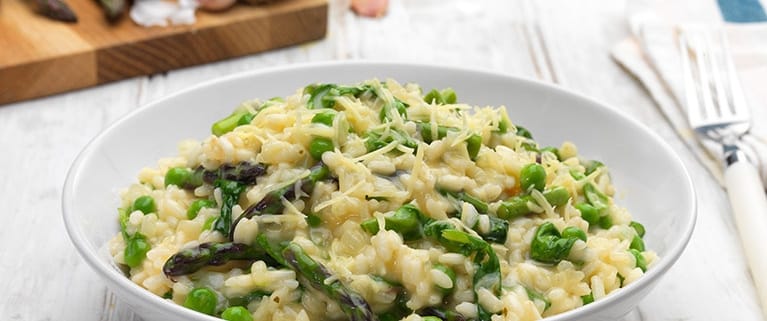 Ingredients
200g double podded broad beans
4 medium shallots, finely minced
3 spring onions, trimmed and finely minced
1 small clove garlic, finely minced
250g trimmed asparagus spears, sliced into 4 diagonal pieces
3l good quality chicken or vegetable stock
1 tbsp olive oil
85g butter
350g risotto rice
100ml dry white wine, at room temperature
140g shelled peas
100g finely grated parmesan
Minced parsley
Method
Bring the stock to a simmer.
Heat the oil and half the butter in a large saucepan. Sauté the shallots, spring onions and garlic for 3-4 mins until soft but not brown. Add the rice and stir for a few minutes until the rice becomes a bit transparent. Pour in the wine. Keep stirring until the wine has evaporated.
Add a splash of stock and continue to stir. When it is absorbed, add more. Keep stirring and adding stock for about 15 minutes.
Put the asparagus into the stock and let it simmer for a few minutes, then add it to the rice with the beans and peas. Lightly season. Add more stock and stir until the rice is al dente but not mushy.
Take the pan off the heat, add half the parmesan and the rest of the butter plus a splash of stock to keep everything moist. Put the lid on the pan and leave for 3 mins to rest. Check the seasoning. Serve with the remaining parmesan and scatter with parsley.
https://thetriangle.org.au/wp-content/uploads/2022/09/risotto.jpg
431
767
Debbie Worgan
https://thetriangle.org.au/wp-content/uploads/2021/01/masthead-orange.svg
Debbie Worgan
2022-09-28 18:51:38
2022-09-28 18:51:38
Risotto Primavera