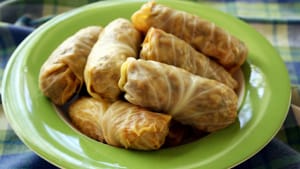 Diana Holmes and Glennda Heino
Quaama Quiisine – some recipes from the offerings at Quaama's Fairs, from Glennda and Diana.
Our food is always popular at the fairs and other community events held during the year at the Quaama Hall. We're glad to be able to share some of the recipes with you here. Enjoy!
Finnish Cabbage Rolls with tomato and onion gravy
This recipe is quite flexible and forgiving—you can use less meat and more rice, or replace the meat with grated carrot, zucchini and ricotta. If the mixture seems too wet just add some more bread crumbs or oat bran. The wonderful flavour comes from the butter. A large cabbage should yield about 18-20 rolls.
Rolls:
1 large cabbage and a pot of boiling water that the cabbage will fit into with the lid on
1 large onion, chopped
20 g butter
500 g minced beef
1½ cups cooked rice
½ cup breadcrumbs
Salt and pepper to taste
½ teaspoon dried sage
60 g melted butter, additional
Good squirt tomato sauce
An egg or two, depending on the size
Gravy:
1 large onion, thinly sliced
3 medium tomatoes, sliced
40 g butter
200 ml tomato juice
Salt and pepper to taste
Arrowroot or cornflour to thicken
Method:
Cut the core from the cabbage and discard the outer leaves.
Place the cabbage in the boiling water, put the lid on and simmer for 10 minutes. Turn the heat off and leave to sit with the lid off for 5 minutes before draining. When cool enough to handle, peel off the leaves and lay on a dish drainer.
While the cabbage is cooking and cooling, make the filling.
Soften the chopped onion in 20 g butter over medium heat.
Put the mince and remaining ingredients, along with the softened onions, into a large bowl and mix well.
Lay the cabbage leaves out and divide the mixture evenly between them—place the mixture at the base of the leaf. Roll up, folding the edges in as you go, and place into a buttered rectangular casserole dish or deep baking tray.
Cover the dish with a layer of baking paper and then cover with foil. Bake at 180 degrees for up to 1 hour, removing the cover for the last 10 minutes.
While the rolls are cooking, make the gravy.
Soften the onions in the butter, add the tomatoes and when they start to disintegrate add the tomato juice and seasoning. When cooked to your liking, thicken with cornflour or arrowroot mixed with a little water. Serve the gravy in a jug or just ladle over the rolls as they are plated up.
It's better to over- rather than undercook the cabbage rolls. Leftovers are traditionally reheated by frying in more butter over medium to high heat in a cast iron pan.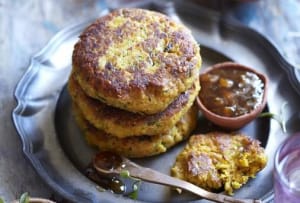 Chickpea and lentil patties
2 tablespoons olive oil
2 large onions, thinly sliced
3 garlic cloves, crushed
1 tablespoon ground turmeric
1 tablespoon ground cumin
2 cups cooked chickpeas
2 cups cooked lentils
½ cup sunflower seeds
½ cup chopped parsley or coriander
2 eggs, lightly beaten
1 cup plain flour
Salt and pepper to taste
Oil for frying
Method:
Soften the onions and garlic in oil over medium heat. Add turmeric and cumin and stir to combine. Cook for a couple of minutes and set aside to cool.
Process chickpeas, lentils, sunflower seeds, parsley or coriander, egg and onion mixture in a food processor until almost smooth. Transfer to a large bowl. Add 2/3 cup flour. Stir until well combined. If the mixture seems too wet, add some breadcrumbs or oat bran.
Place remaining flour on a plate. Form mixture into patties. Coat in flour.
Heat oil in frying pan. Fry patties in batches over medium heat for 3 minutes each side, or until golden.
Serve as is with caramelised onions and salad or make into burgers. Depending on the size, you should get 10 -12 patties from this mix.
https://thetriangle.org.au/wp-content/uploads/2015/10/recipe-rolls.jpg
1080
1920
Darryl Butler
https://thetriangle.org.au/wp-content/uploads/2021/01/masthead-orange.svg
Darryl Butler
2020-12-08 21:55:52
2021-01-06 16:05:40
Quaama Quiisine