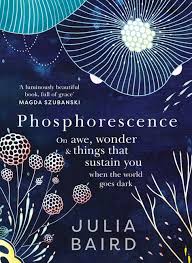 Phosphorescence: On Awe, Wonder and Things That Sustain You When the World Goes Dark
Reviewed by Debbie Worgan
Phosphorescence: On Awe, Wonder and Things That Sustain You When the World Goes Dark
Julia Baird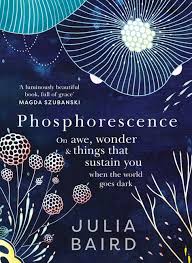 Harper Collins, $32.99
I haven't even finished reading this book, but I already know it's worthy of a review. Parts of it have resonated so well with my life that it's almost as if it's been written for me. The book is largely a collection of essays which reflect Julia's search for light and meaning – a search that many people can identify with. Julia writes beautifully and passionately about all sorts of things that sustain her and generate awe and wonder in all of us. These words, 'awe' and 'wonder', come up again and again. Her writing is a seamless blend of science, psychology, personal development and memories. I'm finding it difficult to describe but it's not at all a difficult read. Phosphorescence is beautifully written; polished and poetic.
The book assumes that experiences of awe and wonder are good for you – good for your health, general wellbeing and your spirit too. I found myself identifying with so much of what she has to say about family, friends, illness and health, nature, climate change, even Instagram. She finds her ongoing source of wellbeing through family and good friends and in nature, especially swimming in the sea. 'Social connection and relationships are the single greatest predictor of health and happiness throughout your life.' How true this is.
Although Baird has had her own health issues, she manages to be very philosophical about life. The nurturing of internal happiness is the 'phosphorescence' she believes can sustain us through even the darkest times. Many of the chapters seem to be offering wisdom to her children or the next generation. She is full of optimism. The book easily transports us into the deep, inner longings we all have, and then puts them into words. It is so reassuring to see these thoughts shared and expressed. Baird writes that everything is transitory; everything passes and in these trying COVID times, this is important to remember. As the world seems to spin out of control, this book puts a calming perspective on our current, temporary, situation.
Phosphorescence is much more than a self-help book. It is a search for light, awe and wonder. I came to read Phosphorescence knowing nothing at all about its content, and it's proving to be a surprise and a delight. It is absorbing, beautiful, unpretentious, inspiring and deeply moving. Julia Baird has written exactly the book we need for these times.
https://thetriangle.org.au/wp-content/uploads/2020/07/Book2-colour.jpg
263
192
Debbie Worgan
https://thetriangle.org.au/wp-content/uploads/2021/01/masthead-orange.svg
Debbie Worgan
2020-12-08 12:40:05
2021-01-04 13:59:13
Phosphorescence: On Awe, Wonder and Things That Sustain You When the World Goes Dark