Reviewed by Debbie Worgan
Blacklands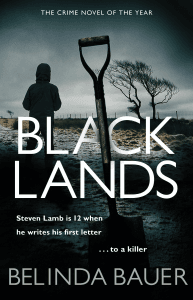 Belinda Bauer
Orion, $19.99
Blacklands, the first novel by Belinda Bauer, is a chilling psychological read. It's both a tale of a broken, dysfunctional family and a journey into the mind of a child-murdering serial killer.
The story revolves around Steven Lamb, a 12-year-old boy from a poor background, whose uncle, Billy, was believed to have been a victim of the child killer and paedophile Arnold Avery. His remains have never been found and although Billy disappeared before Steven was born, the shadow of his uncle's death has impacted greatly on his family. His Nan is bitterly obsessed, standing at the window, every day awaiting Billy's return, while Steven's mother shows only the most basic interest in anything.
Steven begins to develop the idea that he can 'mend' his family if he can discover the fate of Billy, so begins digging on nearby Exmoor in the hope of discovering his uncle's bones. When his search proves fruitless, Steven takes the next logical step, carefully wording a letter to Arnold Avery in prison.
Because Avery's mail is censored, Steven devises clever ways to pose his questions, and Avery finds clever ways to provide enigmatic answers. The depraved Avery sees in the letters a way to wallow in his fantasies and there begins a dangerous cat-and-mouse game between a desperate child and a bored serial killer. The growing threat from the killer, even from within his prison cell, is spine-chilling and you fear for Steven's safety.
Blacklands is a gripping read that provides a mix of crime, thriller and coming-of-age drama. Steven's character and his home life are well developed and drawn with subtlety and sensitivity. Arnold Avery also makes for a fascinating, if despicably ugly, character. The plot is carefully crafted—you don't know what will happen until the last pages—and deals with some potentially difficult topics, although Bauer, thankfully, avoids graphic details.
Blacklands is uncomfortable at times but highly atmospheric and suspenseful throughout.
https://thetriangle.org.au/wp-content/uploads/2020/06/Blacklands.png
1800
1156
Darryl Butler
https://thetriangle.org.au/wp-content/uploads/2021/01/masthead-orange.svg
Darryl Butler
2020-12-08 12:38:58
2021-01-04 14:59:54
Blacklands