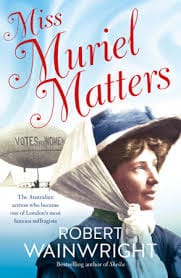 Robert Wainwright, Miss Muriel Matters, $32.99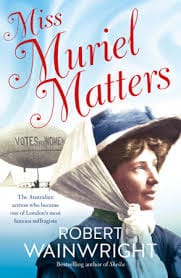 Reviewed by Heather O'Connor
October 2017

Here is yet another woman I had never heard of! Muriel Matters was born in Adelaide, spent time in Perth where she began her life as an actress before moving to London to further her career at the beginning of the 20th century. Before long, she was caught up in the struggles for women's right to vote. The book traces her commitment and her involvement up to and after the First World War.
She first gained notoriety by chaining herself to the grill that separated women from the MPs at Westminster, at which point she became the first woman in history to address the Parliament before she was hauled off, still attached to the hated grill, which had to be cut to enable her removal. She became a regular speaker at the huge crowds of people attracted to the meetings of the suffragettes. Physical and verbal abuse was the norm at these meetings, as they were when she took to travel in a caravan around Britain, recruiting women (and few men) to the cause. She was jailed along with over a thousand of her sisters, enduring appalling conditions and abuse.
Dubbed "that daring Australian girl", her next adventure was to take to the skies in an air balloon, distributing Votes for Women pamphlets; this was declared as the first aerial protest.
The book explains the tensions between the different factions of the suffrage movement. Most of us know something of the Pankhurst women; few of us understand the conflict between those who wanted votes for all women and those who wanted the vote confined to women of property and education. There was also fiery dispute over tactics – should the women resort to violence? Should they confine their struggle to winning the vote or broaden the debate about improving the status of women through education, better health and housing?
Any woman who could stand up and say "…we are done with charity, we want justice" is my sort of heroine. Thanks are due to the author for rescuing her story.
https://thetriangle.org.au/wp-content/uploads/2015/10/muriel.jpg
278
181
Darryl Butler
https://thetriangle.org.au/wp-content/uploads/2021/01/masthead-orange.svg
Darryl Butler
2020-12-07 23:40:45
2020-12-10 12:33:47
Miss Muriel Matters