Sebastian Barry, Days Without End, $32.99

Reviewed by Heather O'Connor
September 2017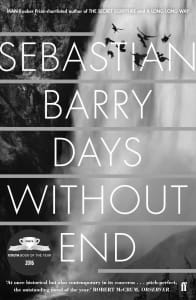 This is the second book of Sebastian Barry that I have reviewed this year, but it is so completely different from all his others that I gave myself permission to indulge in this most favorite of authors.
All the other books of his that I have read have been set in Ireland and, in combination, give a wonderful history of that country in the 20th century. Days Without End, however, is set in America, although the narrator is a poor Irish immigrant whose history follows him to the new land where he joins the army, alongside an equally poor young man who becomes his life companion. Together they fight in the Indian Wars, then re-enlist to fight in the American Civil War on the side of the North. The book tells of the horrors of war, of death, of starvation and endless marches in extremes of weather. But in equal measure, Barry writes of the strength of friendship, of decency and courage, and above all, the love and tenderness between the two men.
What stood out for me was his ability to insert no more than a line or at most a paragraph, to describe the life-long commitment of the two men, one of whom assumes the role of a woman and wife, the other of whom takes on the responsibility of a parent to a young Indian child. There is not one lengthy description of any aspect of the relationship between the two, yet it is possibly the most tender love story I've read for years.
On a "star" rating this is 4.5 out of 5 – and I can't even think of what the other .5 could possibly be! If you only read one book this year, read this.
https://thetriangle.org.au/wp-content/uploads/2015/10/book-7-scaled.jpg
2560
1675
Darryl Butler
https://thetriangle.org.au/wp-content/uploads/2021/01/masthead-orange.svg
Darryl Butler
2020-12-07 23:39:46
2020-12-10 12:35:02
Days Without End