Colm Toibin, House of Names, $29.99
Reviewed by Heather O'Connor
August 2017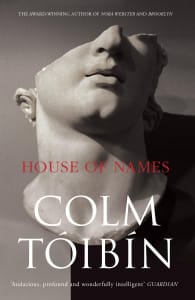 I must have been one of the first people in Australia to buy this recent release, such is my obsession with this terrific writer. I was a bit daunted by the reviews I had read, and it was much harder to get into than other books of his, mainly because my knowledge of Greek mythology is woeful. However, turns out that didn't really matter – I didn't need the background to understand this epic story of love, ambition, and struggle for power.
The book is a re-telling of the horrific events in the lives of a king, Agamemnon, explaining how and why he sacrificed his daughter, Iphigenia, to the gods, hoping to ensure his victory in battle. Her betrayal and death is avenged by her mother, Clytemnestra, whose actions rival that of Lady MacBeth. Meanwhile, the other daughter, Electra, and the only son of the family, Orestes, must shape their lives, torn between love of their father and grief for their sister. (Not much love lost from either for their mother, who by this time has taken unto herself a very unpleasant lover. In the end she meets a very gory end.)
Much of the story is told from the point of view of Orestes, who finds companionship and love with his friend, Leander, with whom he has shared the horror of being kidnapped, abused and imprisoned, and the triumph of escape and survival.
As with most of Toibin's books that I have read, it left me feeling I should go off and attend to the huge gaps in my historical knowledge – this time, of the Greek myths and legends. This book is completely different from his novels set in Ireland, although it reminded me a bit of The Testament of Mary, where he took a known story and re-told it from a completely different angle.
House of Names will challenge you, but it's worth it!
https://thetriangle.org.au/wp-content/uploads/2015/10/book-5.jpg
2405
1561
Darryl Butler
https://thetriangle.org.au/wp-content/uploads/2021/01/masthead-orange.svg
Darryl Butler
2020-12-07 23:38:56
2020-12-10 12:35:45
House of Names