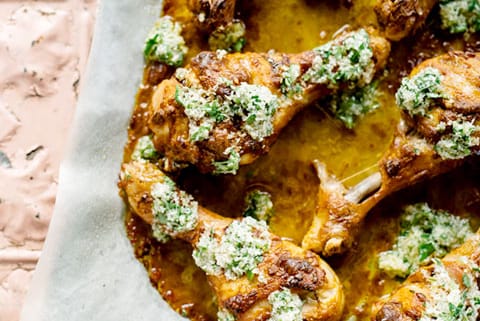 Marinated chicken with coconut chutney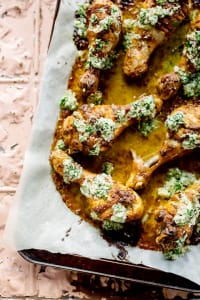 Jody Vassa

A few things about these drummies. Firstly, to ensure they cook evenly on the BBQ, make sure you score the thickest part of the leg. A couple deep diagonal cuts will do. Dilute the yoghurt a little as it helps the marinade stay on the chook. Lastly, make extra chutney as it is divine and tastes  great on everything, and it is suitable for all doshas, which is a bonus!
1kg chicken drumsticks, scored
1 tsp ground turmeric
2 cloves chopped garlic
1/2 cup (125ml) coconut yoghurt
1 tsp each coriander, cumin, and garam marsala
1 small red onion, grated
Coconut-Lime Chutney
2 Tbs desiccated coconut
Zest and juice of 2 limes
1 tsp coconut sugar
1 green chilli, seeded and chopped
2 Tbs chopped coriander
2 Tbs coconut oil
2 Tbs water
Place the chicken, turmeric, garlic, spice, onion, and lime juice in a shallow dish and mix well to coat the chicken. Cover and refrigerate for as long as time permits; overnight is ideal.
Bring the drumsticks to room temperature 30 minutes before cooking.
Preheat oven to 200C. Line a tray with baking paper and arrange chicken on it. Bake, turning several times, for 40-50 minutes or until cooked through.
To make the coconut-lime chutney, place all ingredients into a food processer and process until combined. Serve the chicken topped with coconut-lime chutney.
https://thetriangle.org.au/wp-content/uploads/2021/01/Marinated-chicken-with-coconut-chutney-.jpg
720
480
Debbie Worgan
https://thetriangle.org.au/wp-content/uploads/2021/01/masthead-orange.svg
Debbie Worgan
2021-01-28 14:19:14
2021-01-28 17:48:15
Marinated chicken with coconut chutney