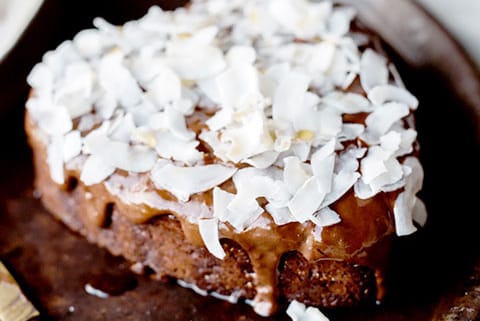 Vegan choc peanut butter cake
1 cup almond meal
1 cup desiccated coconut
1/2 cup coconut sugar
1/2 cup cacao
3 Tbs buckwheat flour
2 tsp baking powder
2 Tbs chia seeds
2 tsp peanut butter or hulled tahini
1 cup mashed banana – about 3 small ripe bananas
1 cup (250ml) coconut water
Topping 
1 ripe banana
2 Tbs cacao
2 Tbs maple syrup
1 Tbs hulled tahini
Flaked coconut and maple syrup to serve
Preheat oven to 180C. Grease and line a heart-shaped cake tin or 20cm springform tin with baking paper.
Place the almond meal, coconut, coconut sugar, cacao, buckwheat flour, baking powder, and chia seeds into a bowl and mix to combine.
Combine the peanut butter, banana, and coconut and then fold into the dry ingredients. 
Spoon the mixture into the prepared tin and bake for 40-50 minutes or until a skewer comes out mostly clean when inserted in the centre – it will be slightly moist because of the nature of the cake.
Allow to cool for 10 minutes in the tin before turning onto a wire rack to cool completely.
To make the topping, place the banana, cacao, maple, and tahini into a food processor and process until smooth and creamy. Spread over the cooled cake, top with the coconut and drizzle with the maple syrup.
https://thetriangle.org.au/wp-content/uploads/2021/01/Vegan-choc-peanut-butter-cake.jpg
720
480
Debbie Worgan
https://thetriangle.org.au/wp-content/uploads/2021/01/masthead-orange.svg
Debbie Worgan
2021-01-28 14:20:53
2021-01-28 17:47:46
Vegan choc peanut butter cake