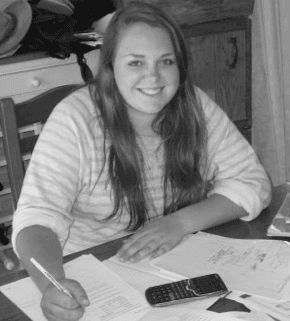 Evelyn Robertson, HSC student
My Triangle 2011.12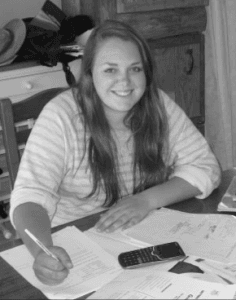 Where in the Triangle do you live?
Wandella, at the end of a really long driveway.
How long have you been there?
Since August 2000.
Where did you live before that?
We lived at Israels Rd, on the border between Quaama and Brogo.
What do you do with your time?
At the moment I spend my time studying for exams and I work at a pizza bar in Bega. As a job it's pretty good actually. Besides that I look after the animals: six dogs and sometimes the cows and horses. But not the sheep because even though they are cute babies they get ugly and not the chickens – they flap at you.
What do you like the most about living in the Triangle?
Mmm, it's pretty here I suppose, good climate, I hate hot weather and there's always a breeze here. Also I get my privacy.
What do you like the least about living in the Triangle?
It's so far away from everything so there's lots of driving. There's too much petrol and time involved in getting anywhere. The shops and petrol stations close early so I can't act on an immediate decision.
What would you do to improve the place?
Some nice restaurants with foreign food, an Indian restaurant would be good. Even a roast chicken place, there's not even a western restaurant open after 6pm. I'd like more nightlife for Cobargo.
What changes have you seen in the time you have been in the Triangle?
I don't know, I've never paid attention.
What's next for you?
First my HSC, and my results, then I'm going to Canberra to do four years of studying primary school teaching. I'll have to get a job there, get some accommodation on campus and then meet some new people and hit the nightlife.
https://thetriangle.org.au/wp-content/uploads/2020/12/Evelyn-Robertson-1112.png
368
290
Debbie Worgan
https://thetriangle.org.au/wp-content/uploads/2021/01/masthead-orange.svg
Debbie Worgan
2020-12-24 16:03:21
2020-12-30 15:44:13
Evelyn Robertson, HSC student