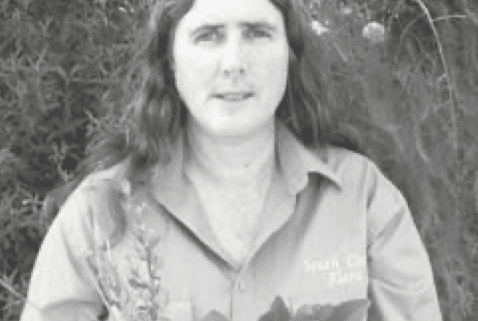 Merryn Carey: Naturally Gifted
My Triangle 2014.09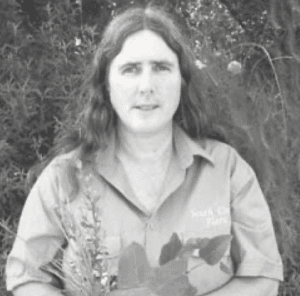 It seems natural that Merryn Carey would eventually choose horticulture as a career path. She spent her youth collectingbunches of wildflowers in a National Park close to home, traversing the valleys, hills, caves and creeks and admiring thenaturally occurring rock and sandstone formations. A vivid appreciation of all these elements and how they work together, plus her formal qualifications (Degree in Horticulture and Masters in Environmental Health), would later influence herstyle as a landscaper. Most of her work in western Sydney involved obtaining rocks and sandstone from local quarries andincorporating them, and Australian natives, into the natural landscape designs she remembered from her youth.
About 20 years ago, while fishing in the Hawkesbury River in Sydney, Merryn noticed that the fish had ulcers anddecided it was time to move to a more pristine location in order to source fresher foods for her family. Friends mentionedthat there was a neighbouring property for sale at Dignams Creek on the far south coast which had excellent land forgrowing food and was close to clean water for fishing. The move would also enable this hard-working, load-bearinglandscaper to leave the rocks and sandstone behind and to focus on the edible landscape. The real hunter-gather side ofMerryn was about to be exposed and bush tucker was on the main menu.
The Dignams site proved to be perfectly suited to the family's needs. It was, and still is, 'the greener pastures', the quiet,sheltered and protected place with good soil and clean water they were looking for. As soon as they arrived, Merryn andpartner, Ian, laid out the clearing, using permaculture principles as a guide, to ensure that plants obtain the nutrient-richrun-off without human labour and intervention. Even the animals have a big part to play in maintaining the environmentand protecting the crops. After the harvest, any left-overs are consumed and cleaned up by the birds, and the ducks thatparade around the property. Merryn's dogs, Louis and Leroy, patrol the internal perimeter keeping everything, especiallythe wallabies, on the right side of the metre-high fences.
This property fits the permaculture principles perfectly: to produce edible landscapes while mirroring the naturalecosystem. So much so, that you can be looking at bush tucker without even realising it. In particular are the majesticBunya and Hoop Pines that Merryn and Ian planted when they first arrived. Bunya Pine, Araucaria bidwillii, is the treearound which Aborigines used to converge every three years or so, from coastal, plains and mountain districts, callingtogether tribes to build friendships and hold ceremonies and corroborees around the bunya season from January to March.Huge cones, the size of a football and weighing about 10kg, fall from the trees, and the nuts, encased in a leathery shell,are either roasted over hot coals or prised open with a sharp edge (they can also be boiled for half an hour). "They tastesomewhere between the chestnut, pine nut and sweet potato," says Merryn. Hoop Pine, Araucaria cunninghamii, alsoproduces edible seed and lives up to 450 years, and grows to 60 metres tall!
Here, Merryn has established 'South Coast Flora, Specialist Grower of Bush Food Plants', where she propagates plantsthat are best suited to the far south coast – those that really belong here and some that have adapted to our climate. As aself-taught botanist, Merryn collects seeds. One in particular is the Italian Stone Pine which can be seen growing well atKameruka Estate. This pine is Mediterranean in origin, dating as far back as the Roman Empire!
Another leaf to Merryn's business is farm certification through NASAA (National Association of Sustainable AgricultureAustralia). There are approximately 2,000 certified farms in Australia. Merryn is one of about 30 people who do this jobnationally. It takes her all around Australia, to Queensland, Victoria, NSW and South Australia. Merryn finds that thepeople who seek certification are a unique breed of dedicated people who stick to an ideology and that certification is notjust for farms but also for vegetables, nuts, abattoirs, fertilisers and packing facilities. There appears to be a growinginterest in businesses seeking the certified organic status.
Merryn propagates for both wholesale and retail markets, regularly attending Moruya and Candelo Markets, andparticipates in agricultural field days. Overall, Merryn is dedicated to helping people achieve their horticultural goals,whether they involve unusual or specific plants. Moreover, her aim is to ensure the quality of the plants she offers for sale,putting customer satisfaction before profits.
For all her travels, Merryn still believes that nowhere beats the beauty and unspoilt nature of the far south coast. "Overallit's all about land care and revegetation and protecting the providence for future generations," says Merryn.
"See! The winter is past, the rains are over and gone. Flowers appear on the earth … the fig tree forms its early fruit. Theblossoming vines spread their fragrance". Song of Songs 2:11-13.
Sharon Cole
https://thetriangle.org.au/wp-content/uploads/2020/12/Merryn-Carey-1409.png
472
478
Debbie Worgan
https://thetriangle.org.au/wp-content/uploads/2021/01/masthead-orange.svg
Debbie Worgan
2020-12-24 16:04:24
2020-12-30 16:17:09
Merryn Carey: Naturally Gifted