My Triangle 2019.06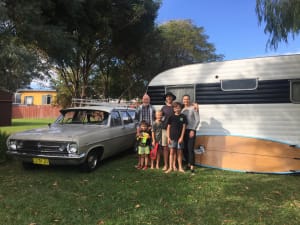 Meet the Fullers
People come to live in the Triangle region for all sorts of reasons. A couple arrives to live the dream by the sea for a short time before returning to the city for 'proper work'. Or retirees make the shift to downsize and live a quieter life. But when three generations move in, that's something else! Danny and Riahana Fuller with Ethan (12), Kane (8) and Ben (4), along with Danny's dad, Richard, have made Bermagui their home for the last year. They have not moved here to 'try it and see'—in just a year, they have bought and renovated a beach house and set up a business. Why? I asked Danny…
Why the move?
If we were going to make a move, it had to be before the boys started high school. We also knew we needed more work/life balance. We were working hard and still are, but in Young it was so hard to really relax. Here, we have found real balance. The 'small community feel' is like Young offered when we were kids, and we wanted our boys to grow up in a place where people know each other well. We also just fell completely for the surf, mountains and country life—all in one place!
So, why Bermagui?
We were well established in Young. Dad (Richard) had lived there pretty much his whole life and was a second-generation cherry farmer. He was looking to retire after nursing my Mum through a long illness. Riahana and I grew up in Young and have been sweethearts since high school. We had worked hard and had our dream home all renovated and our flooring business was really firing. But Young was changing fast and we didn't want to bring up our boys there. We popped in to visit Auntie Barb, Mum's sister, who lives on Wallaga Lake on our way home from a weekend escape, and there was a house for sale in Auntie Barb's block. So, here we are!
How has your first year been?
Busy! The boys love it here. We were worried at first about how they would find it with new schools and making friends. We shouldn't have worried—the school in Bermagui has been excellent. Ethan has joined in with many sports opportunities. He loves skating and AFL and with the beaches and lake across the street from home, he is becoming a pretty good fisherman. Kane has energy to burn so he is loving the outside life with the space and freedom here. Ben is happiest down on the beach with his brothers, especially if he has a truck with him. He loves to dig! Richard has found the fishing to be fantastic and Riahana has so far been the best fisher of all! Pretty much every afternoon we are all on the beach.
Business-wise, we are loving the challenge of starting again. We have worked together now for 20 years and it really works for us. I can talk forever about flooring and Riahana makes it all run like clockwork. Dad is looking for a place of his own and number one priority is having a shed. He loves restoring cars. He's wrapping up the family home in Young and we have put our house there on the market so we are 100% committed to Bermagui. It has turned out better than our wildest dreams. Happy kids, happy parents … and the bonus is Dad coming to share in the adventure too.
What came first? The car or the caravan?
We had been taking off every month for a weekend in our old family 'Sundowner' caravan towed by our 1967 HR Holden to get away from Young and reconnect with each other as a family—simple camping holidays to get back to basics and clear our heads. This caravan has been in our family for four generations now. It belonged to my mum's parents. We have left it as original as possible, so we even need ice for the ice chest. It wasn't just about nostalgia though. We wanted our kids to appreciate what they had by seeing what it used to be like for a family to enjoy a holiday together. No internet, no air conditioning, just talking and hanging out with each other. The car is as close as I could get to our family station wagon when I was a kid. We had an HT Holden so when I saw there was this HR Holden station wagon for sale, I leapt on it. It has no air con and it is original condition. No power windows, no fancy cup holders for McDonald's. Just good, old fashioned, 'get you from A to B' type travel. The boys love it. Everywhere we go we get strangers coming up to us reminiscing about their childhood cars.
Ann Maree Menager
https://thetriangle.org.au/wp-content/uploads/2020/12/my-triangle-2019.06.jpg
900
1200
Debbie Worgan
https://thetriangle.org.au/wp-content/uploads/2021/01/masthead-orange.svg
Debbie Worgan
2020-12-30 14:41:14
2020-12-30 16:13:37
Danny and Riahana Fuller