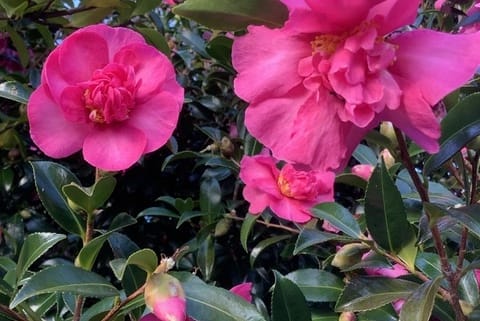 As winter arrives and the days grow shorter and darker, just because the sun is fading it doesn't mean that your garden has to also. You can overcome the dreariness of winter in the short term by injecting some colour with annuals like calendula, pansies, primroses, violas or Iceland poppies but, unfortunately, like a sugar rush, this burst of colour will only be temporary. To really satisfy your cravings for colour, you need to start planning better with a view to injecting some more perennial sensory satisfaction into your winter landscape. Here we discuss three of the top perennial colour performers on the winter garden stage.
If you have a partly-shaded blank spot in the garden that could do with some winter bedazzling (underneath a deciduous tree or on the shady side of the house for example) then you would do well to slip in a few hellebores. Sometimes known as the winter rose, these hardy, low-growing (40cm x 40cm), cold-tolerant plants come in a spectrum of colours, from lime green, dusty pink and white to bolder shades of maroon. To bring out your inner Morticia Adams, seek out some of the stunning black varieties. Keep them well mulched in summer.
If you like your dose of colour to come with a fragrance, then look no further than Daphne odora. At home in the same spot suitable for a hellebore, the shrub-sized daphne (1.2m x 1.2m) has pinky-white or lavender-coloured flowers. Daphne has a bit of a reputation for being finicky and they like a slightly acidic soil but, if you can grow blueberries or azaleas successfully at your place, you should be right. Even if you have failed with daphne before, don't be frightened to give it a second go because, if you do get it right, you will be rewarded with a whiff from one of the world's most fragrant shrubs.
Now we come to the queen of the winter flowers – the camellia. There are a few different species as well as many hybrids, including the one you just put in your teacup (Camellia sinensis) but the main two are Camellia sasanqua and C. japonica and you can use both to extend your colour timeline from the end of summer to the beginning of spring. Both species come in a variety of different colours, sizes and forms, some look very much like peonies while others have a stunning symmetrical shape.
The Sasanqua camellias are the earlier flowering varieties beginning in late summer and progressing through autumn into early winter. They will happily live in a full sun position (and are fine in deep shade too) and are faster growing than the Japonica varieties. The Sasanqua leaves are much smaller but still glossy and dark green and they are ideal for growing as a hedge or a screening plant.
The Japonica camellias begin flowering in late autumn and early winter, with varieties opening progressively until spring. They enjoy a cooler climate and prefer partly-shaded areas, away from morning sun so as not to burn the delicate flower petals while they're still wet with dew. They have large, glossy green leaves and are perfectly suited to growing as stand-alone specimen plants as they have a lovely, rounded growth habit.
Meanwhile, around the town gardens, the hibiscus are still providing splashes of colour after months of blooms. As mentioned above, the camellias are really starting to reveal themselves and the Kniphofia spp (red hot pokers) have also begun lighting up the winter gardens like flaming torches.
In the wild places on the sides of the road around the Triangle, between our last edition and now, you may have witnessed the mass flowering event of Acacia terminalis (sunshine wattle) in the forested areas. This shrub-sized (to 2m), understorey species put on an incredible display recently, with a sea of creamy-white lining the roadside.
This month in the vegie garden, the planting options are getting a tad thin. It's pretty much the last chance to get your garlic in and carry on planting other alliums (onions, shallots etc.) but that's about all we will be sowing this month.
Finally, if you have any comments, gardening questions or plant or pest identification problems, please send them through to gardening@thetriangle.org.au and we will endeavour to help.
Happy Growing.
https://thetriangle.org.au/wp-content/uploads/2023/05/WGO-Camelia.jpeg
480
480
Debbie Worgan
https://thetriangle.org.au/wp-content/uploads/2021/01/masthead-orange.svg
Debbie Worgan
2023-05-30 11:53:33
2023-05-30 11:53:33
Welcome to winter