The Quest for Eden-Monaro: A Core Sample of Australian Democracy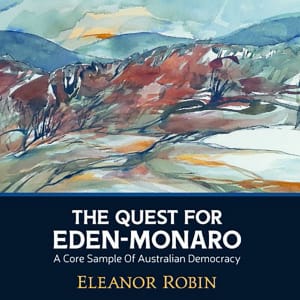 review by Angela Marshall
by Eleanor Robin 
There are several aspects of Eden-Monaro, our federal electorate, that many know about it, or think they do. It is one of the original Federation electorates – it was established in 1901 and, although its boundaries have changed many times in keeping with changing population numbers, it is still recognisably the same electorate that it was 121 years ago. It encompasses the high plains of the Monaro, the snowy alpine areas, heavily forested mountains and valleys and the coastal strip down to the Victorian border; the economic base of the rural areas includes forestry, hydro-electricity, fishing, tourism, dairying, fine wool, beef cattle and horticulture; and it includes the regional city of Queanbeyan and now encircles the ACT. It was known as a bellwether seat between 1972 and 2016 – meaning that whichever party won Eden-Monaro went on to form government.
But that reputation has not always held true and, in fact, it has had two members who between them served the electorate, sometimes from government and sometimes in opposition, for just over fifty of the past 121 years – its first member, Austin Chapman, who represented Eden-Monaro for twenty-five years from 1901until his death in 1926, was a member of three different parties; and Allan Fraser from the ALP who was the member for twenty-six years from 1943-'66 and 1969-'72. These two men were an exercise in contrasts but, clearly, they were both able to appeal to the diverse electorate of south-eastern NSW over many decades. 
Chapman's father was Roman Catholic, a publican and wheelwright, and his son, Austin, married into a large Irish-Catholic family of businesspeople and became a publican and businessman in his own right. He maintained an independent streak, to the point that he was sceptical about the need for political parties, and was deeply loyal to those who mentored him. He was convivial, a great talker, a prankster and joker. His political conservativism was leavened by his progressive approach to some issues: he was totally opposed to Kanaka labour (calling it 'black slavery'), believed in fair and adequate wages for working people and supported the payment of parliamentarians (recognising that, without payment, Parliament became the preserve of the wealthy).
By contrast, Allan Fraser, a self-declared Socialist, was a reserved man, deeply thoughtful, a talented writer and an excellent parliamentary speaker with a quiet sense of humour. He was the son of a mining engineer and spent his boyhood in Tasmania. His grandfather had been a minister of religion and his parents were deeply political and passionately interested in social and political reform. His ambition from early childhood was to be a journalist (he eventually became a Press Gallery journalist in Canberra) and to become a member of parliament – and he achieved both. When he was asked to run for preselection for the seat of Eden-Monaro, which at this time included the ACT, he accepted with alacrity. Eden-Monaro, as a largely rural seat, was considered conservative in nature and yet Fraser, who was anything but, managed to hold the seat for twenty-six years while remaining an independent thinker and true to his values.    
This book delves into the many and detailed reasons behind their long occupations of the same position and is a book for all political tragics, like me, but also for anyone interested in the history of politics in Australia. 
https://thetriangle.org.au/wp-content/uploads/2022/04/book.jpg
1200
1200
Debbie Worgan
https://thetriangle.org.au/wp-content/uploads/2021/01/masthead-orange.svg
Debbie Worgan
2022-04-30 15:29:14
2022-04-30 15:29:14
The Quest for Eden-Monaro: A Core Sample of Australian Democracy