Thai red lentil soup with aromatic chilli oil and snap peas
Madhuma Thompson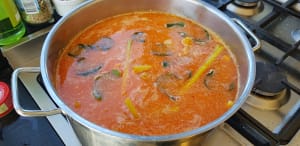 The Bermagui Pick-Up Kitchen is a not-for-profit, volunteer, takeaway kitchen open Sunday evenings at the River Rock Café. All proceeds go to either to the Batwa tribe in Uganda or the Sewing the Seeds women's empowerment project in India.
BPUK was born from seeing our friends and businesses flailing after the bushfires and then later during COVID-19 lockdown. Dipak and I wanted to offer some kind of relief – at the same time giving ourselves a focus. We came up with the idea of a community kitchen that would provide home-cooked meals at household prices, giving locals a break from cooking every night. We also wanted our efforts to have the most impact for the small amount of cash we'd earn, and then pass that on. The modest yet regular donations that come from the meals you buy have been making a big difference in the lives of our friends overseas.
The menu changes weekly and can be previewed on our Facebook page or the community email notices.
The recipe below is from one of my favourite chefs – Ottolenghi – and is surprisingly easy to make.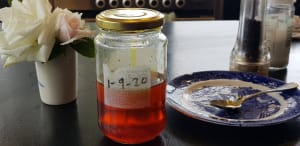 Soup ingredients
3 tablespoons sunflower oil
1 medium onion, thinly sliced
1½ tablespoon vegetarian red curry paste
2 lemongrass stalks, gently bruised with a rolling pin
4 fresh kaffir lime leaves (or 12 dried)
250 grams red lentils
250 ml coconut milk
1½ tablespoons lime juice
1½ tablespoons soy sauce
Salt to taste
Handful of coriander leaves, roughly chopped
Handful of sugar snap peas, sliced diagonally
Chilli oil ingredients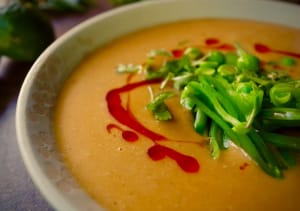 180 ml sunflower oil
1 banana shallot, or 2 regular shallots, coarsely chopped
1 clove garlic, coarsely chopped
1 tsp peeled and coarsely chopped fresh ginger
½ red chilli, coarsely chopped
½ star anise pod
2 teaspoons curry powder
1 teaspoon tomato paste
grated zest of ½ small lemon
First, make the chilli oil. Heat 2 tablespoons of the sunflower oil in a small saucepan. Add the shallot, garlic, ginger, chilli, star anise and curry powder and fry over low heat for 5 minutes, stirring from time to time, until the shallot is soft. Add the tomato paste and cook gently for 2 minutes. Stir in the remaining oil and the lemon zest and simmer very gently for 30 minutes. Leave to cool and then strain.
Note about oil: if you want 'aroma' without the heat just omit the chillies completely. The leftover oil is delicious and will keep in your fridge up to a month. It's sensational over eggs, transforms noodles, even cheese sandwiches.
For the soup, heat the sunflower oil in a large pot and add the onion. Cook over low heat, lid on, for 10 to 15 minutes, stirring once or twice, until the onion is completely soft. Stir in the red curry paste and cook for 1 minute. Add the lemongrass, lime leaves, red lentils and 700 ml water. Bring to a boil, turn down the heat to low, and simmer for 15-20 minutes or until the lentils are completely soft.
Remove the soup from the heat and take out and discard the lemongrass and lime leaves. Use a blender to process the soup until it is completely smooth. Add the coconut milk, lime juice, soy sauce and ½ teaspoon salt, and stir. Return the soup to medium heat. Once the soup is almost boiling, ladle into bowls. Garnish with the snap peas, coriander leaves and a drizzle of the chilli oil over each portion.
Please note, the soup is a bit spicy even without the chilli oil. You can temper this by reducing the amount of red curry paste and adding more coconut milk.
I often close my weekly menu missives with the tag line, 'There are many hands stirring these pots', and truly there are. Aside from the hands-on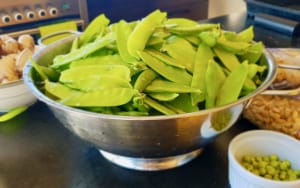 involvement, an unexpected joy has been observing how everyone finds their own way of contributing – some with their time, a bag of rice, fresh veggies, a tray of baklava, cash donations, new kitchenware. The list goes on. People basically want to help, because it feels good to be a part of something that's spinning in a positive direction – especially now.
https://thetriangle.org.au/wp-content/uploads/2020/09/recipes5-scaled.jpeg
1244
2560
Debbie Worgan
https://thetriangle.org.au/wp-content/uploads/2021/01/masthead-orange.svg
Debbie Worgan
2020-12-10 14:56:09
2021-01-05 21:20:39
Thai red lentil soup with aromatic chilli oil and snap peas