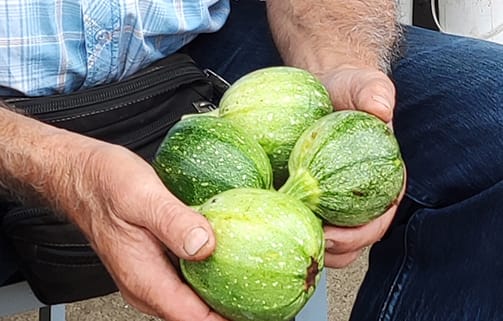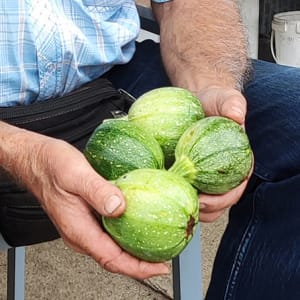 1 kilo marrows
200 g minced pork
100 g chopped bacon
1 tablespoon tomato paste
2 onions, chopped
50 g butter
1 tablespoon Parmesan cheese
2 beaten eggs
Salt-reduced stock
¼ teaspoon mixed spice
6 potatoes, sliced
2 onions, sliced
2 large carrots, halved lengthwise and sliced
1 cup peas 
Cut top of marrows making an opening to stuff. Cut the bottoms so they'll sit flat in the dish. Don't cut too much. Scoop out the centre of the marrows gently, using a teaspoon and leaving a nice thick wall inside. Keep the flesh for later. 
Grease an oven dish with oil. Lay the sliced onions and potatoes in the dish, top with sliced carrots and peas. 
In a pan, brown the onions in butter, add the minced pork and the chopped bacon and simmer for 5 minutes. Add the scooped marrow flesh, tomato paste, spice, salt and pepper. Simmer until cooked. Add the parmesan cheese and beaten eggs to bind. Using a tablespoon, fill the marrows with the meat mixture and place marrow on top of vegetables in the dish. Spread leftover meat mixture in the dish. Pour in enough of the stock of your choice to reach half-way up the marrows. 
Bake in a 180 ºC degree oven for about one hour or until cooked. 
I like to cover the dish with foil for the first 45 minutes, then remove the foil to brown and finish cooking. 
https://thetriangle.org.au/wp-content/uploads/2022/03/marrows.jpg
447
503
Debbie Worgan
https://thetriangle.org.au/wp-content/uploads/2021/01/masthead-orange.svg
Debbie Worgan
2022-03-30 15:04:44
2022-03-30 16:05:47
Stuffed Marrows