Sheena Boughen, Four Winds Chair
My Triangle 2009.03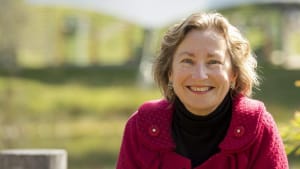 When did you first arrive in the Triangle region?
When Bill and I bought a farm at Verona in 1990, we moved there and set it up as a dairy farm with our neighbour. I had no idea what adventures were before me, being an inner city girl!
What type of work do you do?
I have my own consulting company, and work as a strategic facilitator on social and environmental issues with large companies and the community. That means that a company will ask me to work with them to help understand how they can set up a process to get people external to the company together with their staff to design a better way of doing business. Sometimes it's with ANZ on their indigenous housing policy, or BHP Billiton on corporate responsibility listening to NGO leaders from around the world, or Reconciliation Australia, planning and running their annual staff retreat. I get to work on controversial issues with people who have more in common than they think.
Obviously your work takes you away from the area. What makes returning so special?
Well I really love where I live, the physical beauty of the coast, and the people I live with. I think to be in a place with a small population and in a rapid state of change brings out interesting tensions and also great possibilities. I am very excited about the way in which we are designing the future here, and think the role the arts and culture can be a great driver for sustainable growth. I love the idea that the script for the future isn't written yet … so why shouldn't we design it and make it innovative, sustainable and profitable for all?
What do you most enjoy about living in the Triangle?
I like the silence and the natural beauty, and the optimism of the people who are putting in so much effort for our future. The ones who believe in a low energy society, high on cultural and agricultural activities that will make money, having great fun and a rich life from encouraging diverse ways of thinking and living.
You are currently the Chair of the Four Winds Festival at Bermagui. What benefits does the community gain from this biennial festival?
Our audience constantly tells us that they adore being in an outdoor amphitheatre near the beach, with the best of Australia's musicians and special ones from overseas, who surround us with the magic of classic music from around the world. For three whole days! Then they get to eat delicious local food, and be nourished by the generosity of the volunteers who plan it all with such passion and enthusiasm. Putting world class music, natural beauty and food together with friends is our definition of luxury. And the 1200 people per day who come spend a lot of money while they are here!
What leisure activities do you enjoy in the Triangle?
Listening to the surf, yoga with Lois Irwin, weights with Bear, eating and drinking with all the great cooks and gardeners, and being so inspired by the huge array of brilliant artists and craftspeople here.
https://thetriangle.org.au/wp-content/uploads/2020/12/My-Triangle-2009.03.jpg
577
1024
Debbie Worgan
https://thetriangle.org.au/wp-content/uploads/2021/01/masthead-orange.svg
Debbie Worgan
2020-12-24 15:56:25
2020-12-24 15:56:25
Sheena Boughen, Four Winds Chair