Robbie Hart  – 20 years of miracles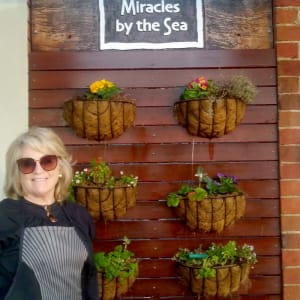 Georgina Adamson
I chanced on Robbie Hart late one quiet afternoon outside her salon, Miracles by the Sea, watering her little bit of vertical garden. She proudly told me that it was the twenty-year anniversary of Miracles offering hair-care services to the community. That's a lot of heads.
Robbie has always maintained a gentle, quiet but important presence in the community. She is well and truly a local – a fourth generation member of the McVeity family, starting life on a dairy farm in Wandella, educated at Cobargo Convent followed by St Pat's, Bega, and then, breaking away in her last two years of school, she attended Bega High School.
Robbie always knew she wanted to be a hairdresser and headed to Canberra after school to attend Canberra TAFE for her formal training. There she embarked on some wonderful apprenticeship opportunities, firstly with Magnolia Coiffure, an old-style hairdresser that specialised in wigs and hairpieces, serving some very important Canberra clients, and received a wonderful grounding in the trade. She moved on and worked with a traditional Italian barber in Woden who gave her a great grounding in the industry.
It was in Canberra that she met Gary who at the time was working for Gough Whitlam. In their early twenties they decided to travel, backpacking around the world and working at various jobs to support themselves.
They spent some time in Scotland in the late '70s living at Findhorn, an early eco-community of people choosing to live mindfully. This affected their lives and when they returned to Australia they lived in Bellingen in the early '80s also living communally. Robbie always had a pair of scissors close by and her hairdressing skills always assured her of work.
They then moved to Canberra where they became involved in the fitness industry but finally the pull of the coast and family drew them back.
She set up her first salon in Bermagui, Focus on Hair, in Sorrento Lodge, now the Bermagui Bay Beach House, where the salon had spectacular views. When they ran out of room in the late '80s, they moved down the street and took over Dunks, His and Hers and set up Beachcomber where Gary trained to be a barber under Robbie. This building had been a barber's shop or hair salon for over ninety years.
Their first child Tiffany was born in '88 so Robbie became a very busy working mother. In 1990 they sold up and moved to New Zealand when Gary was offered a great opportunity to further his career and work with Les Mills in the fast-growing fitness industry. This led to his presenting a Reality Living television program. They were away for six years, Robbie, of course, still plying her trade and finally, in 2012, they returned to Bermagui along with their little family. Robbie continued her hairdressing career and Gary divided his time between barbering and teaching yoga and fitness.
Robbie first worked at Nauticurls with Michelle, back in Sorrento Lodge, and in 2001 it became the home of Miracles by the Sea. It remained there for twelve years moving to its present location along Lamont Street in August 2013.
With her family now in Canberra for work and study, Robbie spent a lot of time on the road between 2008 and 2012. She travelled weekly to be with her family, while juggling looking after ageing parents. One of her most memorable jobs was working as the Parliamentary hairdresser during the Rudd-Gillard years dealing with some very important heads!
Over the years she has also trained seven apprentices to become tradies.
As well as being devoted to her trade and working extremely hard at it, Robbie's strong connection with community and family has always been important. Travelling and living in various locations has confirmed her belief that there is no place like home in the Triangle.
Robbie and Gary have worked hard both in their trades and for the community. Gary, not one for being idle, is also currently a member of SES.
https://thetriangle.org.au/wp-content/uploads/2021/08/My-Triangle-Robbie-2.jpg
1091
1000
Debbie Worgan
https://thetriangle.org.au/wp-content/uploads/2021/01/masthead-orange.svg
Debbie Worgan
2021-08-29 15:22:16
2021-08-29 15:22:16
Robbie Hart  – 20 years of miracles