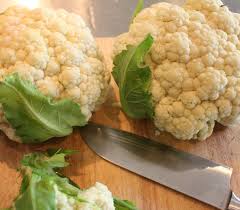 Roast Cauliflower Cous Cous & Almond Macaroons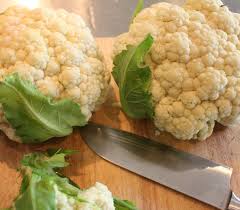 Linda Sang
One of my favourite things to enjoy over winter is cauliflower. Such a sweet satisfying vegetable. Good for those of us looking at reducing carbohydrates. This recipe for cauliflower couscous can be eaten as a side dish with anything in place of regular wheat-based couscous or potatoes. You can extend the basic dish by adding chick peas or broad beans, chopped tomatoes, rocket and/or baby spinach and you have a gluten-free vegan dish you can eat at room temperature or hot.
Roast Cauliflower Couscous serves 4 – 6
1 medium cauliflower
drizzle of olive oil
1 tsp ground cumin
1 tsp ground coriander
ground chilli to taste
⅓ cup chopped fresh coriander, leaves and stalks
½ cup toasted flaked almonds if you want some crunch
salt and pepper to taste
Preheat oven 200C. Remove outer leaves and cut cauliflower into small florets. The easiest way to get the couscous effect is to pulse the florets and chopped bits of stalk in a food processor for a couple of seconds at a time till the cauli looks crumb-like, being careful not to overdo it as you will end up with a paste. Alternatively you could grate the cauli with the largest grate side and finely dice the stalks.
Line two trays with baking paper. In a large bowl toss the processed cauli with a drizzle of olive oil to moisten. Also toss in the ground spices and salt and pepper. If you had some dukkah or zataar – Morrocan spice mixes, you could add some in as well, but it's not necessary as you can be as plain or fancy as you want depending on your pantry.
Spread the mixture onto the trays in a thin even layer, roasting the cauliflower for 12 minutes, moving it around the tray halfway through the cook. Roasting dries and intensifies the flavour. The couscous should be light and fluffy. Back in the bowl again you mix in the coriander and any other additions you may want. Sprinkle with the toasted almonds.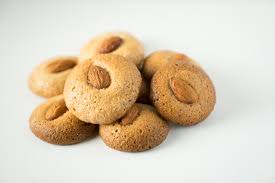 Almond Macaroons – makes around 20 biscuits
1 egg white
¼ cup agave syrup or use equal amount of caster sugar
2 cups of almond meal
pinch of salt
flavourings- add 1 tsp ground ginger and 1 tbsp or more diced crystallised ginger or if you like almond flavour add 1 tsp almond extract and some lemon zest
Preheat oven to 170 C. Line a large baking sheet with baking paper.
In a medium bowl whisk the egg white to stiff peaks with a handheld mixer (when I beat egg whites I always add a little caster sugar to help it get stiffer)
Beat in the agave syrup or sugar and flavourings. Fold in the almond flour and salt into the wet mixture. Line a tray with baking paper. Roll the dough into walnut sized balls, leaving space between each biscuit. Bake for 10 – 12 minutes until slightly golden. Let the biscuits cool on the tray. Biscuits should be slightly chewy and moist on the inside.
NB If you use the agave syrup they aren't as sweet as using sugar.
https://thetriangle.org.au/wp-content/uploads/2015/10/RECIPEpic3.jpg
210
240
Darryl Butler
https://thetriangle.org.au/wp-content/uploads/2021/01/masthead-orange.svg
Darryl Butler
2020-12-08 21:41:13
2021-01-06 16:11:43
Roast Cauliflower Cous Cous & Almond Macaroons