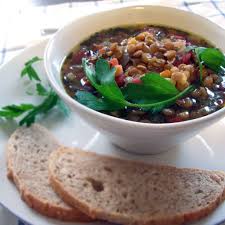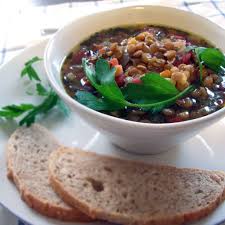 Thea Constantarids
This is a classic Greek soup eaten in winter all over Greece. My mother says that even though mine is not as thick as hers, it's tastier!!!
Ingredients
2 cups dried lentils, whole brown or whole red, my favourite for this soup is whole red
1 onion, brown or red
4-6 cloves of garlic
1 leek
3 carrots
1 small bunch silverbeet (optional, you can still make this soup if you don't have any silverbeet)
1 small bunch parsley
olive oil or lard (you will need some oil or lard for the frying at the start and then you will need more olive oil to put in soup at the end)
2 bay leaves
3-5 springs of rosemary, fresh is best but dried is fine
1 small bottle of homemade passata or 1 can of diced tomatoes
water or homemade veggie stock or homemade beef or chicken stock
balsamic vinegar (you can use apple cider instead)
salt and pepper to taste
Method
Soak the lentils overnight. The next day, drain the lentils and add fresh water and bring the lentils to the boil and simmer for 5-10 minutes, depending on how quickly they cook, you don't want to over boil them. Cook them until they are soft in the centre but not going too mushy, they will cook more in the soup.
In a large saucepan gently fry in olive oil or homemade lard the onion, garlic, leek and carrot. Turn heat down and put lid on and gently simmer until onion has started to soften.
Add cooked lentils, chopped silverbeet, bay leaves, rosemary, tomato, a little salt and pepper and then add enough water or stock to cover all ingredients and then some.
Bring back to the boil and then simmer for 30 min to 1 hour. Check liquid levels occasionally as you may need to add more liquid during cooking, you want it to be soupy at the end not too thick, have some wateriness about it.
When it's ready, take pot off the heat, add lots of chopped parsley, drizzle with more olive oil (be generous) and season with more salt and pepper to taste
Serve with drizzle of balsamic vinegar and delicious bread.
https://thetriangle.org.au/wp-content/uploads/2015/10/Soup1.jpg
225
225
Darryl Butler
https://thetriangle.org.au/wp-content/uploads/2021/01/masthead-orange.svg
Darryl Butler
2020-12-08 21:42:47
2021-01-06 16:12:17
Greek Lentil Soup