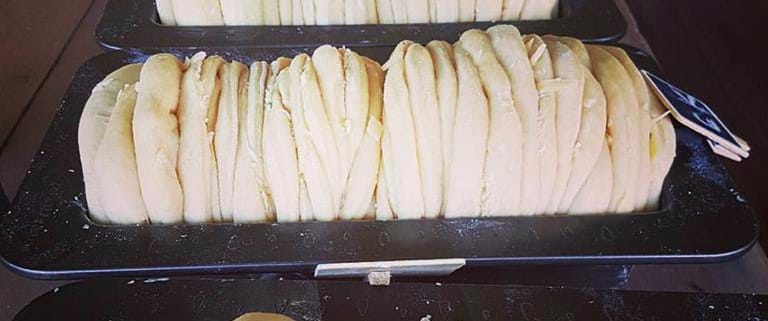 Garlic and Cheese 'Pull Apart' Bread
(Makes 1 loaf)
Ingredients
For the dough:
170mls milk, room temperature
10g sugar
7g yeast
1 organic free range egg, lightly beaten
300g plain flour
5g salt
50g butter, softened
For the butter:
80g softened butter
2 sprigs rosemary, oregano, parsley or your favourite herb, leaves finely chopped
2 cloves garlic, finely chopped
For the top of the bread:
20g parmesan cheese, grated
20g melted butter, extra to brush over the top
For the dough, mix together the milk and yeast and let it 'sponge' for approximately 15 minutes, or until it has started to bubble and froth on the top.
In a separate bowl, mix the flour and salt together.
Add the eggs to the yeast mixture, then add the wet ingredients to the dry ingredients. Bring the dough together, and either knead by hand, or use a stand up mixer for 10 minutes, or until the dough is smooth and elastic. The dough should come away from the sides of the bowl if you are using a stand up mixer.
With a mixer on a slow speed, gradually add the butter to the dough bit by bit, making sure each addition has disappeared into the dough before you add the next bit. If you are kneading by hand, dollop the butter onto the dough bit by bit, and knead until the butter has disappeared. The dough should be shiny and glossy by the time all the butter has been incorporated.
Cover the bowl with a tea towel and leave in a warm place to rise for 1 hour, or until it has doubled in size.
Meanwhile, make your flavoured butter. Combine all the butter ingredients and set aside.
Preheat the oven to 180C.
When the dough has risen to twice its size, knock back the dough and knead it until it returns to its original size.
Grease and flour a 21cm x 11cm (base measurement) x 6cm deep bread tin.
Using a rolling pin, roll out the dough so that it is ½ cm in thickness. Use a 12cm round cutter to cut out round shapes from the dough. Spread the flavoured butter over the rounds, and sprinkle parmesan over the top. Gently fold the rounds in half to sandwich the butter and cheese, and transfer to the bread tin, so that the fold is on the bottom of the tin, and it is seam side up. Line the semi-circles up together so that they fit snugly into the tin.
Set aside in a warm, draught free place to rise again until it has doubled in size, and risen to the top of the bread tin.
Gently brush the bread with melted butter and transfer to the oven. Bake for 20 to 25 minutes, or until golden brown all over and cooked through.
https://thetriangle.org.au/wp-content/uploads/2015/10/BRIOCHE.jpg
960
768
Darryl Butler
https://thetriangle.org.au/wp-content/uploads/2021/01/masthead-orange.svg
Darryl Butler
2020-12-08 21:47:05
2021-01-06 16:12:57
Garlic and Cheese 'Pull Apart' Bread