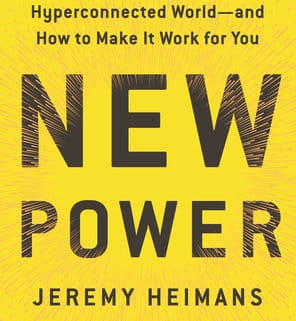 Jeremy Heimans and Henry Timms,
New Power: How power works in our hyperconnected world – and how to make it work for you.
$32.99
For someone totally uninterested in technology like me, this was a difficult book, but one that I acknowledge is important as I try to understand the changing world. There was a wealth of information about the new media, emerging industries, new ways of organising for social change; I learnt of organisations of which I have never heard, but which are changing the nature of power, and the nature of democracy as we have broadly understood it.
Jeremy Heimans is the co-founder of Get Up (about which I know a little) – so he is well placed to describe and analyse platforms such as Uber and Facebook, movements like #BlackLivesMatter and #MeToo, and the success of presidents Obama and Trump, of French President Macron, of Brexit, and movements for democracy in Spain.
The central argument of the book is that the 'old power', possessed by few and largely inaccessible to all but the political elite, is under siege from people largely disillusioned by governments, big business and centralised media. Now we are seeing the emergence of 'new power'—connecting people across class and race, encouraging participation and ownership of businesses and of social movements. The darker side of new power is briefly described in the book, particularly the way in which ISIS uses social media to recruit members.
There are really interesting examples of crowd-funding and other ways of engaging the interest and expertise of citizens to produce new products, new sources of information, and new ways of organising to bring about change at a local level. Whether this 'new power' will be strong enough to combat the influence of the gun lobby in the USA is a question still open. Also still to be resolved is the whole question of leadership and how leaders gain and maintain trust as they seek new ways of including citizens in decision making. As an activist born out of the 1970s, I still grapple with how this 'new power' will transform the ways in which governments and large business operate, but, having read this book, I feel a bit better able to understand the issues.
These ideas and other questions will be canvassed in Cobargo at the 2018 TEDx to be held on 9 June at Well Thumbed Books – see separate advertisement.
https://thetriangle.org.au/wp-content/uploads/2018/06/Book.jpg
450
296
Darryl Butler
https://thetriangle.org.au/wp-content/uploads/2021/01/masthead-orange.svg
Darryl Butler
2020-12-08 11:54:28
2020-12-10 12:31:06
New Power: How power works in our hyperconnected world – and how to make it work for you.