Mary Williams: paying it forward
My Triangle 2020.10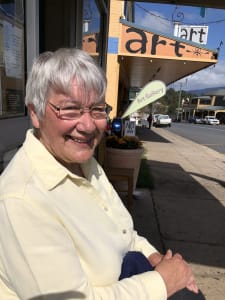 It was 1991 and Mary Williams was teaching HSC English at Mitchell High, in the western suburbs of Sydney. Choosing which texts she would assign that year, among them she picked Chaucer's Canterbury Tales.
'I knew they were up to it,' she says. 'And when Sydney University offered a Chaucer lecture for HSC students, I told them to get their questions ready.
'It was held on a Saturday morning and it wasn't compulsory by any means. It wasn't even a school excursion – they had to get there under their own steam. And the whole class turned up! From the other schools there were a couple of kids here, a couple there … then there was my class, 29 of them, all together and right down the front.'
Mary had warned them that they'd be in the company of students from all the best private schools in Sydney. 'But don't be daunted, I told them. Don't let them put you off!'
At question time, the lecturer took a few questions from the Mitchell kids before asking, 'Which school are you from? Mitchell? Is that private? Never heard of it.'
'No, sir,' said one boy. 'It's a state school. In Blacktown.'
'Well, you should go back to school and thank your English master,' said the lecturer. The boy pointed out Mary, sitting up the back, and said, 'Well, there "he" is – you can tell "him" yourself!'
'But I can't take all the credit,' says Mary now. 'I did love to teach. But they loved to learn.'
Mary was born in Birmingham, England, in 1942. She attended a public primary school before winning a scholarship to King Edward VI High School for Girls. At 18, she married Dave Williams and they migrated to Australia. Dave was soon hired by the Commonwealth Bank and they rented a room in a house in Vaucluse. When Mary found an administrative job with a pharmaceutical company they rented a flat of their own in Paddington.
'We were saving for our own home and didn't like to spend too much, but in those days Kings Cross was a wonderful place to stroll around on a Saturday night,' she says. By 1965 they could afford to build in Springwood, in the Blue Mountains.
Soon they had two sons, Sean and Mark. They moved to the Hawkesbury where they had a few acres, room for a pony. Mary was keenly involved in the children's primary school and the principal asked her to work one day a week in the library. This led to an administrative job at the local high school, and it was here that she decided she wanted to be a teacher. She enrolled in an external course at the University of New England, gained her Bachelors in English and French, then followed it up with a Graduate Diploma of Education. She started at Mitchell High, and later worked in Cowra then Cooma.
In 1999 Dave retired and they bought a ten-acre property on Barlow's Road, north of Cobargo. Mary worked in Cooma for three more years, coming home on weekends, before retiring. She soon joined the CWA Cobargo Branch. She became Branch President in 2007, and President of the CWA Far South Coast Group in 2013. These days she's Communications Officer of Cobargo Branch and, whether it's the results of a cookery competition or the progress of a campaign on family violence, we often hear from her on these pages.
'I've made many friends through the CWA,' she says. 'And I love the causes that it takes on. It makes things happen.'
Mary has a keen sense of gratitude. 'I had the benefit of a wonderful primary school teacher in Birmingham,' she says. 'She was the one who helped me get that scholarship to the independent high school. One day I thanked that teacher for what she'd done for me – how could I ever repay her? And she said, "Just do the same for someone else".'
At least two students from that Mitchell High English class chose a career in teaching. And then there was Paul. His younger brother was dying of cancer, and Mary had given Paul her phone number – 'Call me if you need help. Anytime, day or night.'  And he did call her, in desperation, at two o'clock one morning. They talked and talked.
Paul has a family of his own now and runs a charity that gives disabled people the opportunity to do things they wouldn't have thought possible. Every year he brings a group to Narooma and they go whale-watching. And he always drops in on Mary while he's here.
'Paying it forward', they call it now. Or, 'Just do the same for someone else'. And on it goes.
Jen Severn
https://thetriangle.org.au/wp-content/uploads/2020/12/my-triangle-2020.10.jpg
1200
900
Debbie Worgan
https://thetriangle.org.au/wp-content/uploads/2021/01/masthead-orange.svg
Debbie Worgan
2020-12-30 15:23:39
2020-12-30 15:23:39
Mary Williams: paying it forward