Hilary and John James: Passionate lives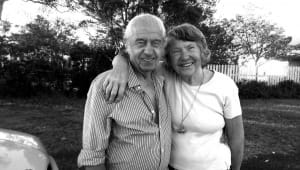 To say that Hilary and John James have lived lives full of travel and adventure would certainly be true, but not the whole truth. While tales of their destinations and activities are enough to fill many books (and they've written quite a few!) it has been their inner, personal journeys that have been their focus for the last five or more decades.
John and Hilary met and married when they were in their early twenties, and other than a three year break, have been together ever since. Now both well into their eighties, their lives are so compatible and intertwined I've taken the unusual step of interviewing them for this page as a couple.
Not that there is any lack of things to say about them individually. In fact, these two are so accomplished in so many fields, this article can only give you a hint about their questioning and brave lives.
Both studied extensively. John read architecture and mathematics and is a medievalist. Hilary reveled in English, history, psychology and anthropology.
John practised as an architect in Sydney in the 1950s and 60s and became part of the famous 'Sydney School' designing the awarded Reader's Digest Building in Surry Hills which was decades ahead of its time. It was energy efficient and consciously created to enhance our human wellbeing in an age of brutal concrete boxes. But after practising for 13 years, he became disillusioned and left architecture and Australia, taking the family with him.
They spent five summers in Chartres, and winters in the beautiful Italian town of Positano, while living simply off the rent of their house and occasional lectures. John 'deconstructed' the cathedral in Chartres, France, stone by stone and, through his enquiry into the building techniques and materials required to rebuild it, revolutionised the way Europeans see their own medieval monuments. Hilary delved into the human story through her perspective as an anthropologist and her camera lens as photographer.
Their passions led them to many places including British West Africa when it was still British, Bali and Europe. They home-schooled their three daughters. In 1973 they walked with their young family for 400 kilometres along the famous road of pilgrimage, the 'Camino de Santiago'. Hilary's camera documented their journeys and now rouses her memories that are taking shape in a number of books. She has published three so far and is currently working on a fourth.
The Blue Mountains was their home for 33 years where they worked as therapists, ran workshops and created a university-level post-graduate course on transpersonal therapy. In particular they used sand-play and Voice Dialogue with a lot of Processing to help clients through their blocks. This led to John receiving the Order of Australia Medal for his educational and cultural contributions. They survived two bushfires on their property, inspiring them to follow their daughter Emily to this area where they have jumped straight into our thriving community.
You'd think that they'd now be retired and happy to sit back and relax but nothing could be further from the truth. They are dedicated to our community and to its survival through what their study and experience shows is coming. They want to see us prepare for rising seas, heat, drought and the drama that would follow the collapse of supply chains.
Hilary and John would like us to stand up together. They'd like us to plan and prepare for our future and hold hands in creating a sustainable community that can maintain a good life even as a hotter planet makes that increasingly difficult. If this inspires you as it does me, support their endeavour by emailing John on gothic@johnjames.com.au.
https://thetriangle.org.au/wp-content/uploads/2020/12/My-Triangle-2017.10.jpg
679
1200
Debbie Worgan
https://thetriangle.org.au/wp-content/uploads/2021/01/masthead-orange.svg
Debbie Worgan
2020-12-24 16:12:18
2020-12-24 16:12:18
Hilary and John James: Passionate lives