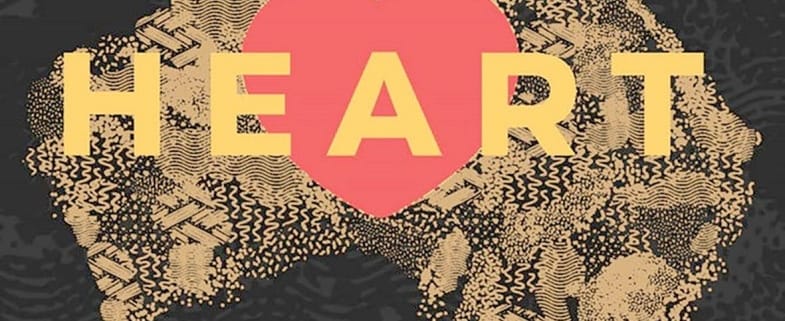 Finding The Heart of the Nation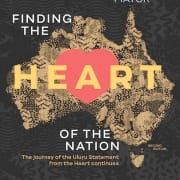 Reviewed by Wendy Tucker
Thomas Mayor
Hardie Grant
This is a wonderfully engaging and inspiring book. Thomas Mayor travelled for over eighteen months with precious document, Uluru Statement from the Heart, tucked safely under his arm.
Mayor starts by sharing his own journey to Uluru. As a Torres Strait Islander, he grew up in Darwin on Larrakia land where he learnt to hunt traditional foods with his father and was taught dance by the Torres Strait community. He became a wharf labourer at seventeen and became a union official for the Maritime Union of Australia in his early thirties. Here he learnt the skills of negotiation and organising. He was a tireless campaigner and applied these skills to advancing Indigenous rights, becoming a signatory to the Uluru Statement from the Heart. He was entrusted to carry the sacred canvas to Indigenous communities around Australia.
This book explains the evolution of the statement, and the artwork depicted on the canvas. It then narrates the progress of this canvas around Aboriginal communities. This book gives us the understanding of how the Uluru Statement from the Heart reflected and engaged with individuals and communities, its meaning for them and their needs, stories and hopes.
Mayor gives us the story of his own journey and the twenty voices he interviewed. Some voices are those of well-known leaders, others are previously unknown. All the voices within these chapters make it clear why this statement is so important. These Indigenous voices ring heartbreakingly true and authentic. They are not mediated through colonial perspectives but reach from human heart to human heart.
This book helped me understand the importance of the Uluru Statement and, more broadly, the struggle of indigenous peoples for justice, respect and reconciliation. It told me how many communities are making a path to collective action and Voice. I learnt why Australia Day is deeply problematic.
And mostly I discovered more about the emotional, intellectual and cultural strength of Aboriginal communities today.
This is a beautifully produced book with many outstanding photographs and artwork. My only quibble is that the print is small and tiring for the eyes, especially when you want to savour every word.
Thomas Mayor's work continues as he travels around Australia, campaigning for the Voice referendum. And his work continues through the pages of this book. This is his gift to us.
https://thetriangle.org.au/wp-content/uploads/2023/03/Book.jpeg
1200
785
Debbie Worgan
https://thetriangle.org.au/wp-content/uploads/2021/01/masthead-orange.svg
Debbie Worgan
2023-03-31 16:16:54
2023-03-31 16:16:54
Finding The Heart of the Nation