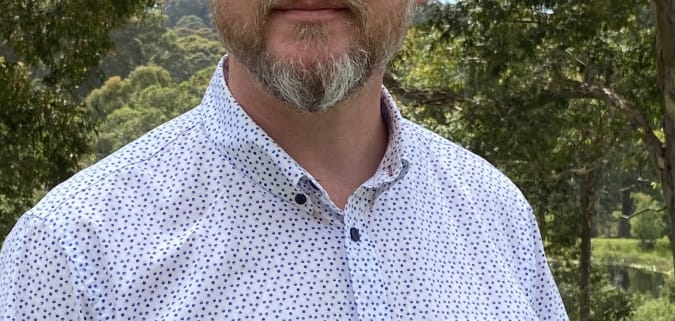 David's open warmth and enthusiasm will be sadly missed by those who have known and worked with him in the musical sphere of the region, particularly with Four Winds, over the past five years.
He and partner Paul and their two well-known whippets, Dexter and Bailey, are leaving Bermagui and heading north, not too far, to Wollongong where David is taking up a new challenge as CEO of Wollongong Conservatorium.
David and Paul like to be on the move and have lived and worked in a variety of locations, here and overseas, in both urban and rural areas. But they have certainly made Bermagui their home since being here and quickly became a part of the community. Originally from the UK, David's last position there was as Director of Arts at Dartington Hall Trust in a rural community in Devon, not unlike Four Winds.
When they came to Australia, David took up the position of General Manager of Sydney Philharmonic Choirs and, while there, became aware of the Four Winds organisation, initially through a friendship with Genevieve Lacey, recorder virtuoso and a previous Artistic Director of Four Winds.
David came onto the Four Winds scene just after the Windsong Pavilion was built and the organisation was looking at redefining its role beyond the iconic, biennial Easter Festival. He has played a pivotal role in building a secure base at Barragga Bay with the infrastructure and resources to run a year-round sustainable arts organisation as well as playing a larger role in the musical life of the community. Both the Windsong Pavilion and the outdoor amphitheatre, the Sound Shell, have hosted a broad range of events and different genres of musical styles over the past five years, including jazz, cabaret, voice performance, choirs, film and dance, that have attracted a much broader audience. As well, Four Winds has taken on a larger role outside the site at Barragga Bay with many new initiatives, especially involving young people, including a significant music program in five local schools.
One of the most lasting experiences of his time here, and there are many of course, has been his work with community choirs. Although he had sung in choirs since childhood (it is easy to imagine him as a cherubic choir boy!) he had never run or led a community choir until coming here. His experience with Spirit Allegro in Pambula and the Belun Malu choir that toured to Timor L'Este and, more recently, working with the wonderful Koori Women's choir, Djinima Yiliga, has been an 'energising new experience' and one he won't forget.
Being able to draw on the amazing creative talents that this region possesses, helping to give it a voice and the opportunities to be a part of the Four Winds experience, as evidenced by the most recent Festival, is a source of great pride and satisfaction.
David said he will always treasure the opportunity he's had to get to know and work with some members of the local Yuin community here, to learn more about their culture, local language and stories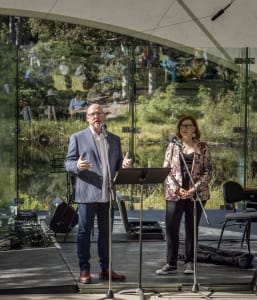 David mentions that the beauty and drama of the landscape here on the Far South Coast will leave a lasting impression … going to work each day in such a beautiful setting as Four Winds, greeting the wildlife that abounds there, living in a home overlooking the ever-changing ocean and, of course, the challenge of the natural forces, particularly the 2020 fires, floods and tempestuous storms … these things will be locked in his memory forever.
Although both David and Paul have loved living in a rural setting, they are equally enthusiastic and whole-hearted about living and working in an urban environment and are looking forward to the move to Wollongong.
'Closer to Bunnings,' David cheekily adds, and he is quite a handyman.
Many here will greatly miss the contribution David made to their lives through the choirs he has been involved with, but he assures us he intends to keep up a connection, especially with the Belun Malu choir and the links he forged with the Timor L'Este friendship program. In fact he'll be back in July as he's going to be directing singers taking part in an Early Music Weekend at the Windsong Pavilion.
Georgina Adamson
https://thetriangle.org.au/wp-content/uploads/2021/04/David-copy.jpg
1200
675
Bhagya
https://thetriangle.org.au/wp-content/uploads/2021/01/masthead-orange.svg
Bhagya
2021-04-30 16:10:12
2021-04-30 18:03:32
Farewell to David Francis