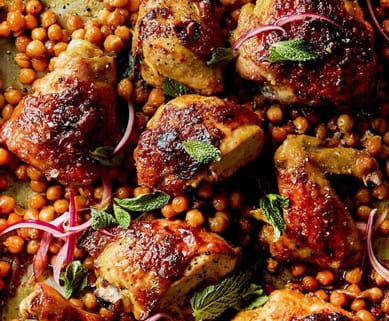 Chicken with chickpeas, cumin and turmeric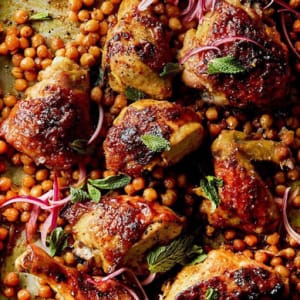 Tried and tested dinner suggestions from the Triangle Team. Who can resist a simple pumpkin soup followed by Bhagya's new favourite chicken dish and finishing up with the ever-popular Lemon Delicious Pudding. All winter favourites that are comforting and perfect for sharing. 
Chicken marinade:
1.6 kg chicken thighs, bone in
Kosher salt and freshly-ground pepper
¾ cup full-fat Greek yoghurt
2 tablespoons fresh lemon juice
1 teaspoon ground turmeric
Chickpeas:
2 cans chickpeas, drained and rinsed
1 tablespoon fennel seed
1 teaspoon ground cumin
1 teaspoon ground turmeric
1 small red onion, thinly sliced
2 tablespoons olive oil
Garnishes:
1 small red onion, thinly sliced
¾ cup full-fat Greek yoghurt
3 tablespoons lemon juice
½ cup mint or coriander leaves, torn
Preparation:
Season chicken with salt and pepper. Combine with yoghurt, lemon juice, turmeric and 2 tablespoons of water in a large bowl. Season well with salt and pepper – it should be on the salty side as this is a marinade. Add chicken and toss to coat evenly. Let it sit for at least 30 minutes at room temperature or overnight in the refrigerator.
Place oven rack in the top third of oven and heat to 220˚ C.
Combine chickpeas, fennel seed, cumin, turmeric and the red onion slices, drizzle with olive oil, season with salt and pepper and toss to coat. Put chickpea mixture on the outer edges of a rimmed baking sheet. Scrape excess marinade off the chicken and place chicken in the centre of the tray. Place baking sheet in the oven and bake, tossing the chickpeas occasionally until the chicken skin is evenly browned and the chickpeas are golden and starting to crisp (45-50 minutes).
Meanwhile toss the onion slices with 2 tablespoons of lemon juice and season with salt and pepper, set aside. Combine the yoghurt and the remaining tablespoon of lemon juice and season with salt and pepper and set aside.
Once chicken is ready, scatter lemony onions and mint or coriander over it.
Serve with the seasoned yoghurt alongside as a sauce.
https://thetriangle.org.au/wp-content/uploads/2021/05/913c257Sheet-pan-chicken-with-chickpeas-cumin-and-turmeric.jpg
486
389
Debbie Worgan
https://thetriangle.org.au/wp-content/uploads/2021/01/masthead-orange.svg
Debbie Worgan
2021-05-31 16:58:00
2021-05-31 16:58:00
Chicken with chickpeas, cumin and turmeric